GT:https://www.grimtools.com/calc/8NKo0A8N
Videos:SR 95 - 100
Build Point
1.keep DA 3800 - 4000 make nemesis only have 60% change to be hit and no crit . It's going to be safe, choose DA & HP fixes for Rare item first.
2.Taunt & Threat , no need worry, with devotion Isatak when monster OT , few second later will get back by Pets, jiu small range around around and around.
3.DPS lost much comparison devotion mogdrogen, but added Arcane Bomb for - 35% Lightning Resit & - 95 OA, so only after 100 summon Nemesis have some problem, cause AOE not strong, like Reaper、Zantarin、Gargaban、Ekket'Zul、Fleshshaper Hinissius those summoner really needs patience.
4.Best Mutators
Worst Mutators

---
with all BUFF,armor absorption 97%, with Royal Jelly Essence & Ugdensalve 24500 HP,132% MS 61% Phy resit(HC afas farm higt value legendary item to increase more attribute)
Inventory need belt Nosferattis change for Sentinel & Octopus
Inventory Consumables & Augments
Consumables have 20% reduction DOT damage
(where get Consumables? farm Homested NPC)
Hoarfrost Ointment for Moosilauke、Alkamir
Frostshroud Ointment Moosilauke、Alkamir
Flamedrinker Ointment SharZul、Gargaban、ZkketZul
Stormshroud Ointment Valdaran、Kaisan
Spiritbane Ointment Anna、 Aleksander
Bloodbound Ointment GravaThul
Pet panel
Note:for Archmage、 Anna、SharZul Character & Pet resist minimum over 60%
with all Buff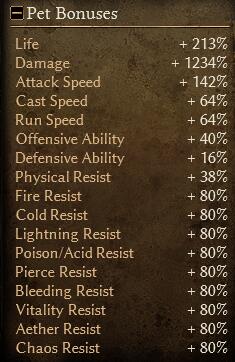 Skill:

Devotion: