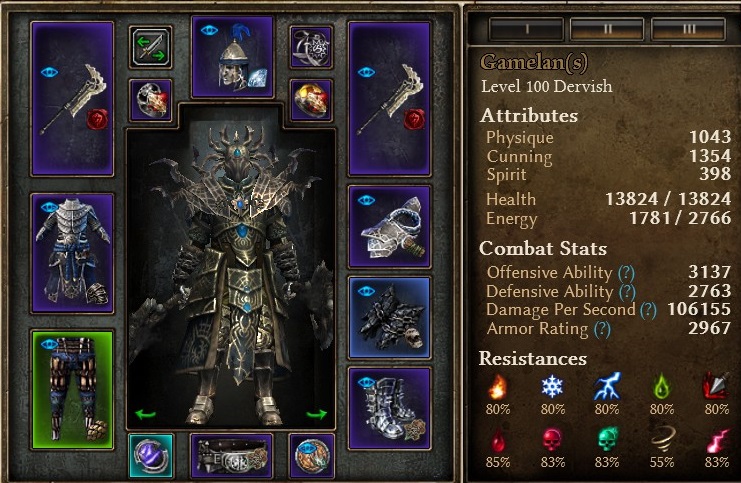 GRIMTOOLS
1.1.8.0 version
He Dreamt He Was Alone in an Empty Field
How does this work?

Unlike most of DW phys builds, this one works so well because converted physical damage ignores armor (example). This is the main idea of this dervish.
At this point, I don't know what this build actually is.
It just works.
What is this?

As I've said before - it's pretty hard to determine what this build is. So let's look at the damage sources:

RF and WPSs, given that all of them are (almost) fully converted.
Blade spirits and Blades of Wrath, which are bounded to them. Again, full conversion.
Shifting Sands bounded to Vire's Might - the greatest source of damage. Two strides proc fully converted sands a lot.
Various procs.

All aforementioned means that it's Hybrid Skater, the first and only. Kappa

Gear explanation

Gear crafted for %Physique

2x Earthsplitter - core items, allows us to convert all pierce damage to physical. 100% convertion is required.

Black Matriarch - BiS for any physical build.

Ring of Sethris - optional here, I've taken it only for OA. Can be replaced with Menhirian

Will of the Blade - BiS, +3 to BS, +1 to NB, physical damage, %AS, flat pierce, granted skill.

3x Targo pieces - BiS, mainly because of conversions and +1 to both OK and NB. And the only set that supports physical dervish.

Grasp of Unchained Might - the best physical gloves. Flat RR for RoS is quite good.
Obsidian Grasp - 7% phys res and flat fire? I found a new friend.

Mark of Kalastor - great stats, plenty of OA, stun res. It's just good.

Deathstalker - mainly because of -% phys resistance and stats. And because there is no NB or OK phys relic.

or

Belgotian's Carnage - I overlooked this relic firstly, but it ended up being better in terms of survivability and damage. The reason is simple, granted skill gives a lot. And +1 to NB is also cool.
Overall - they are almost equal, but belgo's seems a bit stronger.

Reaper Legguards - +3 to BS, can be replaced with Rimestone Legguards when used with Belgo's relic

Gladiator's Distinction - S C A L E S.
Shattered Realm performance

Here's SR100 bossroom (1.1.7.2)


SR95 bossroom (1.1.8.0)


And SR95 fullrun: (1.1.7.2)


As for lower SR, no problems there (maybe Mad Queen is tough, never have encountered it).
Crucible performance

The best run so far:




History
Credits
@mad_lee for helping with the build.