I was gonna add appropriate text from the song Toxic, but is being occupied by someone's build
Introduction
Latest patch was weird for the Vileblade set. It's was nerfed, but at same time more support for Witch Hunter class. So that's proper acid DW build. It's not new and groundbreaking stuff, it's been already posted before. Credit for that to @afanasenkov26 and @thejabrixone.
1.1.8.1 Update
GRIM TOOLS LINK

https://www.grimtools.com/calc/xZyXjJwV
Build is improved a lot and I've decided to use new MI medal for even more ABB damage, acid gloves but with Deathwhisper pants to cap ABB nodes, also slightly different devotions route.
Crucible run of 4:41!
And Moggy kill, Ravager is possible but full pharma run.
GRIM TOOLS LINK 1.1.5.1

https://www.grimtools.com/calc/D2pbdpJZ
Original Build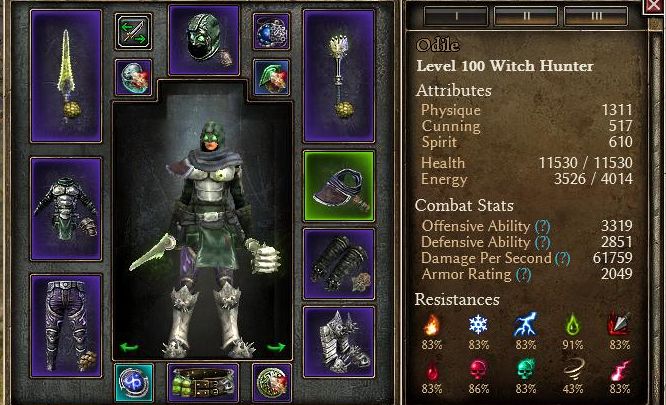 GRIM TOOLS LINK

https://www.grimtools.com/calc/d2j8J1nZ
Key for the build is the set. Other than that acid builds usually have number of green items. I decide to use only these shoulders, which are impossible to be neglected for skill bonuses. They need stun resistance, cause these build lacks. Biggest question mark is gloves, this poison or Iceskorn, but I think these are optimal. If you want Ring of Steel, you can choose the appropriate medal, but decide not to use that skill at all.

Pants are Tranquil for slow resistance. Slow it's still somewhat important, cause this build is semi auto attacker. When ABB is on cooldown, it uses standard attack, which can trigger WPS skills.
Devotions are full offensive, classical for DW acid builds, with many procs like Tainted eruption, Yugol, mini eyes and scorpion sting. Also Revenant for flat RR instead of Manticore.
Crucible
This build is solid in Crucible, mind that you need to be extra careful in 169 and 170 waves. Don't allow to be hit by Anasteria's meteors. Also time can vary a lot. Without lag build can do probably close to 6 minutes or even less, but same time bad Nemesis combos and enemies stuck at spawn points will decrease time to 7-7.20, big margin. Health is rarely moving, but build can die in instant in tough waves. So it's solid, but not unkillable.
For Yugol proc, you need to be surrounded by enemies, so pick your style carefully, when to face tank in middle and when to seperate targets.
Video from 150-170
https://www.youtube.com/watch?v=VIhesrS-Rj8&feature=youtu.be
Conclusion
Recent patch made Dervish weaker, but Witch Hunter slightly stronger. Still difference in times and performance is too big against different Nemesis combos and mutators. Never the less, extremely fun and cool build