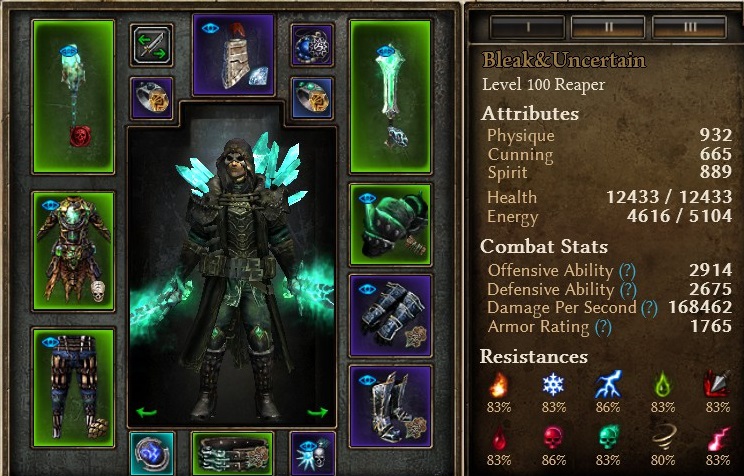 GRIMTOOLS
Giving up toxicity for a while
Gear explanation and Greens

Gear crafted for slow resistance

Theodin's Heart - build defining item.
Blaze Herald - allows to convert some flat damage and whirling death, but most importantly it gives -rr% and ranks to VoS. The higher conversion value the better.
Soulare's Helm - BiS in every way possible. Praise the aetherial sun.
2x Krieg pieces - physical resistance and %damage.
Dreadchill Mark - %as, flat damage, +2 to Soul Harvest, and immense boost to Necrotic Edge.
Reaper's Legguards - +3 to Soul Harvest. BiS. Affixes don't matter much, just make sure to cover your slow resistance. I went for of vitality for some extra health.
Galakros Dread Plating - picked this one for vit to aether conversion, and it's the most important stat. Can be replaced with Deathbringed Raiment. Aim for high conversion value.
Magelord Band - for conversion. Can be replaced with the other from this set, depends on your resistances.
Band of the Eternal Haunt - rr and craft bonus.
Ascended Shoulderplates - aim for high conversion values.
Chains of Ygraad - yet again, conversion. Dread Lord affix is really good, but not mandatory.

Now for these shiny DR weapons:
As it turned out, the difference between double aetherfire of shattered realm and warped of shattered realm is borderline neglegible (52k vs 49k AA damage). However, hence I've recorded everything with DR i put them in gtlink. I almost sure, that every celestial will still be possible and crucible timing will be like 5-8 seconds slower on average.

As for gear affixes - pick w/e you've found, just make sure to have good overcaps, 70%+ slow res and ideally high conversion values. The latter matters a lot.
Shattered Realm performance

In SR Ill Omen is better as DR source than Decay.

SR90


Not the best build for high SR though, normal chunks are painful.
SR75-76 should be fine.
Crucible performance

4.29 in my hands with neutral muts.


4.29 in @romanN1 's hands with neutral muts.


Very stable in CR, the average time is about 4.40
Celestials

For celestials I went for devotion route with ghoul, simply because my OA is too low to proc Phoenix. Also picked Omen because it has higher %DR values and lasts longer.
https://www.grimtools.com/calc/YVWvg1G2 - the only thing that changes through bosses is armor augments. Calcs in descriptions.

Avatar of Mogdrogen: Shouldn't cause any trouble.


Ravager of Flesh: Facetankable, went for +health augments.


Callagadra: 15/10 MoT makes fight easy.


Crate of Entertaiment: And here I was forced to go 14/12 Phantasmal Armor and double hearts in rings. Otherwise, it's perma petrify. The fight is hard due to absence of DoT damage and a lot of aoe. I didn't use omen, BS and corruption for that reason. Still barely made it.

Credits:
@banana_peel for original concept.
Feel free to ask me anything regarding this build and why does it work.