Hello, my fellow builders!
Today I would like to present you something weird. This build conception is not supported directly with set or even famous Conduits. But we have one amulet for Warlocks that converts all Aether and a big chunk of Elemental damage into Acid, if Blood of Dreeg is applied - Putrid Necklace. So many opportunities are open - Acid AAR, Acid Panetti, Acid Callidor's Tempest, Acid Devastation
. But are they viable as endgame skills? Let's talk about first one - AAR.
1. Grimtools link
https://www.grimtools.com/calc/mN4glPrZ - version with Guardian's Gaze constellation (good against melee enemies)
https://www.grimtools.com/calc/0V00LbRV - version with Bat constellation
2. In-game character stats


general stats, only passive and Blood of Dreeg buffs are active

AAR breackdown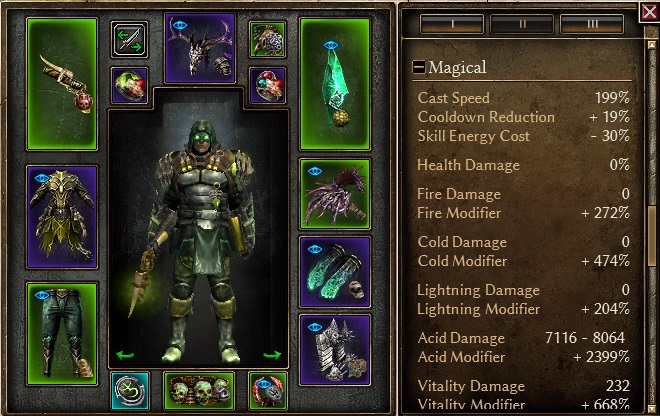 magic parameters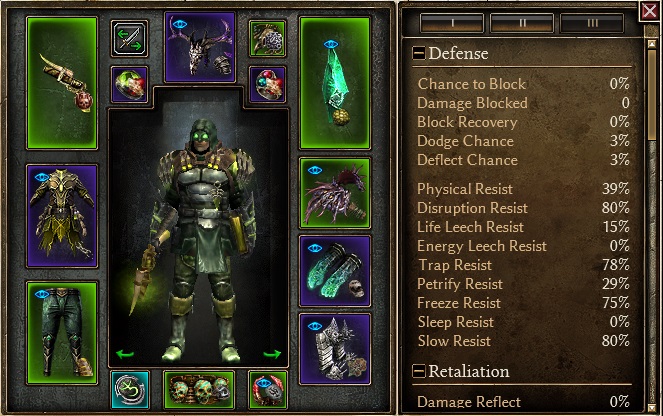 defense parameters
3. Gear/Build explanation
As you might notice, the build has many MIs. This is because we need three parameters to make our poor Acid AAR decent enough to not ragequit from game - full conversion, capped Cast Speed to 200% and maximum Skill Points. Before explaining in detail, I would like to say that for every green MI you need at least ONE prefix/suffix with %Acid Damage, it is crucial for our not-so-great DPS. Okay, so:
Core items.
To fully convert our AAR to Acid and Poison Damage type, we need three items - Putrid Necklace, Ugdenbog Venom Launcher and Venomancer's Raiment. Only when Blood of Dreeg is active, the build will work. So keep an eye on your buffs .
Mandatory items.
Helmet - Ravager's Dreadgaze. +1 to All Skills, useful proc (could be better for casters but okay). Choose of Flesh or, like in my case, of Minds, according to your resistances. Ravager of Souls helmet with ADctH is the worst.
Pants - Aleksander's Legguards. +3 to Disintegration. Yes, please.
Coven Vile Girdle. +1 to Arcanist, can be rolled with %Acid Damage prefix/suffix (unfortunately, only one ), also craftable.
Ring - Mythical Albrecht's Duality. It is not an Acid ring, but it has +2 to Disintegration, Cast Speed, OA, important Elemental Resistance and fully-converted proc. Not bad!
Gloves - Mythical Aethereach. +2 to AAR skill line, Cast Speed, again fully-converted proc. Not an Acid item, but important nonetheless.
Relic - Serenity. +1 to All Skills, defensive proc, resistances. It outweighs even Deathstalker relic (I tried that one, significant DPS drop and even more in defense).
Off-hand - Pulsing Shard. The build needs sustain trough its main damage skill, so this item is set in stone. If the pistol does not have % Cast Speed, suffix "of Celerity" for Shard is mandatory.
Can be changed.
Second ring - Ring of Shuroth. Nice Acid ring with OK proc and parameters.
Medal - Basilisk Mark. An exellent modifier to our Blood of Dreeg skill, easy to farm.
Shoulders - Loghorrean's Corruption. +3 to AAR, juicy stats. Can be changed to Valdaran shoulders with AAR bonus, choose what is best you have.
Boots - Venomspine Greaves. Slow Resistance cap, good Acid Boots overall .
About Resistance Reduction. Total amount is ~96% (-28% from Curse of Frailty modifier, -30% from Murmur constellation, -10% from helmet skill, and 28 flat from Manticore constellation). Not great, but enough against most enemies (exept for Aleksander, Slathzarr and Kaisan - they are highly dangerous even 1vs1

).
4. Gameplay
Pretty simple. Debuff enemies with Curse of Frailty and Bloody Pox, disintegrate them with your toxic ray. If anyone gets close (and they will) - Dreadgaze them to proc Tainted Eruption, also useful against bosses. Mirror, teleport rune and Nullification - for defence.
5. Videos
Mad Queen

Lokarr (with Fire Resistance potion)

Kra'vall

SR 65 bossroom run 1 (bad one)

SR 65 bossroom run 2 (even worse one)

SR 65 bossroom run 3 (more or less okay)

What do you think guys? Can this concept be developed into something decent or it will remain a meme? There is a room for improvement, of course, my gear is not the best. Write your comments below and thank you for reading. Have a nice day!