Hi everybody I got good feedback on my first build post of Mortar trap so I decided to share another build.
This is Toxicus - DW melee Acid Witch Hunter using Mad Queen claws and SR set.
I wanted to make build with Venomclaw set such as this or with Dreeg set like this but decided to try MQ claws and then I went with SR set to be tanky.
Now SR set does not provide flat damage bonus, which is important for DW melee. Therefore build is not as tanky as it looks since lacks damage output to kill quick and heal with life steal. Crowd control resistances is very good though.

I play self found gear, and all alone. I only use GD stash for saving items and searching for them. I level up my chars using speed level technique similar to Rektbyprotoss. My build-style is to try and make non-standard builds often centered around a concept or fun item that I find and not sets and such (here I use SR set so a bit contradicton). Sometimes build won't work but sometimes you get nice surprises which I like. Also English is not my best language but perhaps you guys and girls understand


Grim Tools link https://www.grimtools.com/calc/8NK1JGJV


Stats with Lethal assault, blood of dreeg and pneumatic burst.
Items:
SR set
MQ claws
Serenity relic for defenses
Mythical pach of deadly means belt
Mark of lethal intents medal
mythical widow sting ring
a decent Viloth ring
Mythical vilescorn gloves
Mythical Nidalla pants
Mythical Final march boots
Components and augments:
Shard of Beronath for autoattack main skill
seal of blades for pierce damage that converts and life steal and some armour
ring, amulet and sword augments for damage
rest just to get resistances nothing too weird here I think
medal skill - Dreeg vector
Skills:
I first wanted to max second rite to convert vitality to acid damage via belt but spent points in pneumatic burst and execution instead.
no shadow strike medal skill was enough for me
Devotions:
Nothing special here, I wanted to try improved skill on Guardian Gaze devotion.
perhaps 3rd node in Ulzuin would be better than node in abomination for some more critical damage.
Performance:
As mentioned above, tankyness is somewhat illusion since damage is "low" (it still kills fast but not as fast as you really want with DW melee right). Still main campaign stuff is easy you can tank everything.
I did not try Calla, Mogdrogen or crate boss - there is no chance this build can suceed there. Ravager we did not have enough energy regen even with ointments and spamming energy pot so I have up those.
SR I have done shard 66 several times, not a problem but you have to still play smart.
Crucible I have not played in loooong time. It just takes too much time to get to 150 so not worth it considering that I level up all my characters.
Picture end of a SR66 boss room: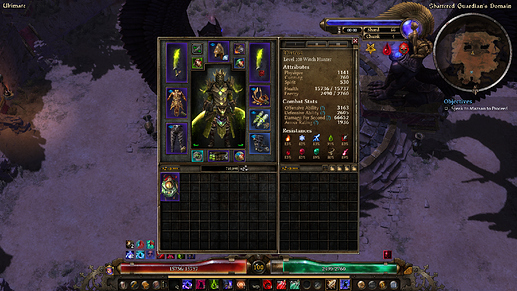 Leveling
leveled this char "speed level" style using tokens, Lokarrs set and experience potions. I played with Dreegs evil eye and bloody pox most of the time until I got to level 94 in about 12 hours or so. This was not a fun experience to say the least.
I still try to improve this method and my execution of it but it is not main focus for my playing

You guys wanna check out Rektbyprotoss video guides on youtube if you wanna learn more.
This concludes build, thanks for reading let me know if you have questions or suggestions of improvements. In particular I am interested in other ways of making build with MQ claws.
Build credits: