Maybe someone else's already tried Ember's Calling with Sabo (or Fire Strike idk), but i haven't seen it anywhere yet. My first try with Saboteur (never played with this class before). And here it is:
Grimtool: https://www.grimtools.com/calc/aZqEgr4Z
Screenshot ingame with Permabuff + Lethal Assault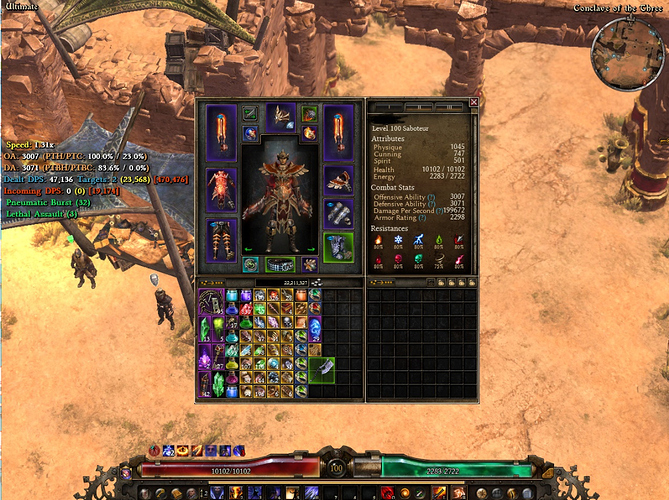 The new sets look awesome, especially for those conversion. The build got some of the best conversion in the game
100% vitality and chaos converted to fire (good roll with double Blazeheart)

100% pierce/ cold/ acid converted to fire (from the set and the mod from MI amulet)
Basically everything is on fire. All MIs are SSF, even the double rare Stoneplate Grave (i got lucky with this craft, and each point in Lethal Assault really help)

Tried it on SR 65 and then go up. Died start from SR 70, and nowhere i can get SR 75 with time left (i got some videos, but the quality is not good, and i died a lot). Even though on paper the build looks really good (OA/DA permenant >3k, DPS 200k, got Flashbang + dodge/evade, some dmg reduction from Ulzuin Wraith- even when i dont know how exactly the dmg reduction works), build is way too squishy for SR 75. I dont try Crucible yet (since this is the first time play Sabo and dont unlock Gladiator yet).
So any thoughts/ advices/ feedbacks are all welcome. Should i change something for more tankiness idk.