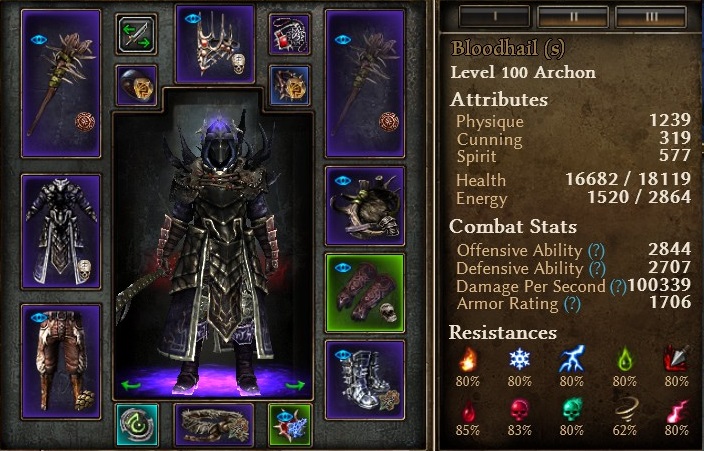 GRIMTOOLS
Archon build, yikes
Gear explanation

Gear crafted for %Physique

Wildheart Vanguard - the core of the build.
Prime Ring of Morgoneth - proc with %DR, a lot of OA and pierce conversion. Can be replaced with Deathlord's Band, but in that case %DR should be accuired somewhere else.
Cursebearer - high %vitality damage and mass proc with vitality -rr. BiS.
Valguur's Gems - %cdr, physical resistance and +1 to Shaman. Also has some bonus damage to storm totems and gloval lightning conversion.
Bloodsurge - whooping 120 flat vitality damage for Vines. Also gives useful skillpoints, has a nice proc and craftable.
Heart of Yugol - Close to Valgur's Raiment but beats its due to freeze resistance and bonus to lifesteal.
Vendigomane Leggings & Boneshatter Treads - %damage and stats, mainly physical resistance.
Lagoth'Ak's Bloodbinding - i really like this medal on vitality/bleed shamans, makes swarm less cancerous to use and gives ranks to it.
Emberguard's Gauntlets of Celerity - most vitality gloves don't have %CS and the ones that do are rather poor stat-wise. Picked Demonic prefix for %vitality damage and stun resistance.
Meditation - +1 to Oathkeeper and a lot of %vitality damage. Trap resistance is also nice.
Seal of resonance - as any vitality build it lacks CC resistances, so i found this component to be useful.
Shattered Realm performance

Did only two runs, both were successful
Crucible performance

Lee's 4.29 run, a bit different version but it doesn't change much.


average run in my hands is about 4.55

Naked Extraspawn run:

Celestials

For all celestial kills used the same armor augment setup for extra health and DA - https://www.grimtools.com/calc/YZeEDEpZ

Avatar of Mogdrogen: Facetank all the way.


Ravager of Flesh: Red Ravager is not ideal due to its manaleach, but it's still doable.


Callagadra: Pretty much the same as Crate fight, but way longer.


Crate of Entertaiment: Easy and safe if you know what're doing.

Credits
@Dmt for original concept (source)
@mad_lee for helping with build polishing and testing