With the recent buffs to the Ugdenbog Venomlauchers and Gulgazor's Heart, I decided to have a shot (hue hue!) at ranged acid Inquisitor. I went Deceiver to try and exploit the Venomlaunchers as much as possible.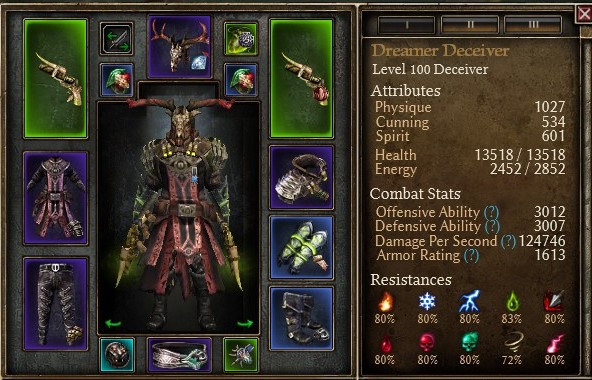 With permanent buffs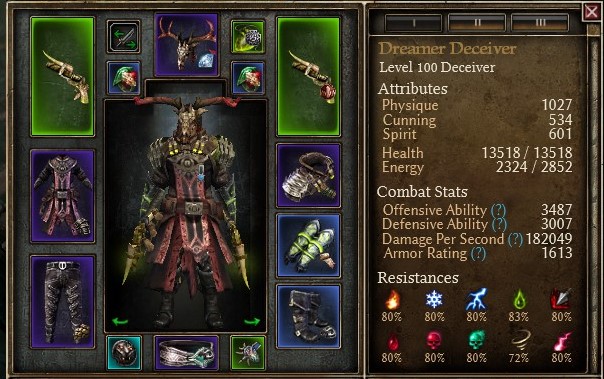 With Deadly Aim and Abominable Might
Performance
3:00 Mogdrogen kill : [1.1.9.1] Acid Pistol Deceiver vs Mogdrogen - YouTube
SR 80 run : [1.1.9.1] Acid Pistol Deceiver - SR 80 run - YouTube
Gear explanation
Guns: Double Venom Launcher, only option. Look for flat acid and attack speed affixes. One shard of Beronath and one Seal of the Void.
Amulet: Gulgazor's Heart is build defining. Ideally with flat acid damage.
Relic: Deathstalker, best option.
Rings: Double Widow's Sting to round out pierce to acid conversion. Craft for stun resistance.
Chest and Shoulders: Chaos to acid conversion, no better option.
Gloves: Best acid gloves for attack speed.
Belt: I initially thought Pack of Deadly means was BiS. However, Murmur's Kiss has less OA but has DA and attack speed. Vit to acid conversion doesn't matter either since I dropped Bat and Meditation relic.
Helm: Went with Ravager's. Venomancer's Guile for chaos conversion and Bloody Pox modifier isn't worth losing the hp and +1 all skills.
Medal: Ilgorr's Eternal Curse with DA affixes is the best for damage, but hard to get. Basilisk Mark/Crest gets the job done too.
Pants: Nidalla's Legwrap although a well rolled Grava Thul's Leggings can be better.
Boots: Flexible slot. Anything with slow resist works. Went Final March for DA and physical resistance.
Skills
Dropped Horn of Gandarr as the long animation was getting me killed and couldn't afford it anymore since I switched to Possession. The rest is fairly standard.
Devotion
Using Yugol for damage reduction and Guardian's Gaze instead of Bat now.
Thanks to @tqFan for sharing his theorycrafted build.