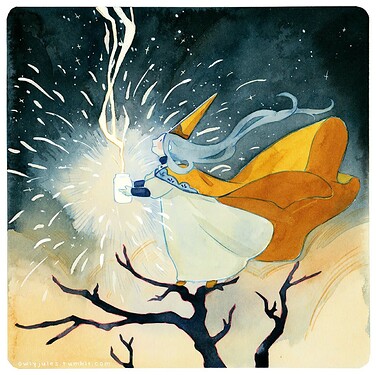 "Modern problems require modern solutions." (read: EXPLOSIVES)
: GT Link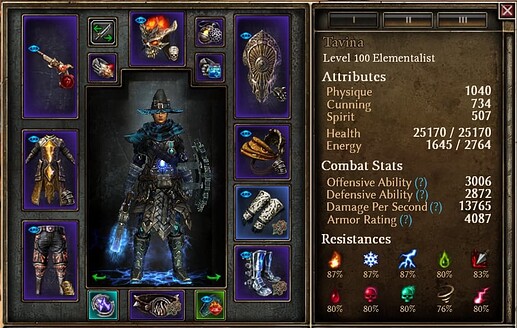 Stats with self-buffs + Savagery stacks
What is this build?

I wanted to make a build that focused on using the two Demo bomb abilities, Grenado and Canister Bomb, with RATA. For that, the build uses Mythical Scion of Burning Vengeance as its centerpiece, and then the Demolitionist + Shaman combo for full lightning synergies with the pistol. I tried other class combos for this including Shieldbreaker, but they weren't as good.

I haven't played much retal, and the last couple retal builds I tried to make were all pretty "meh." I'm quite proud of how this one turned out, though. Performance is nice – it is tanky, strong, and actively very fun with the amount of abitilies to rotate. Melee mobs in particular will melt from the combination of your RATA skills and retal damage.
Features

Pros


Tanky with 24-25k HP and ~4k armor; over 5k with Shield Wall proc up
Fun, fast, active playstyle with lots of RATA abilities to sling
Double RR class
Lots of healing, especially in the "extra healing" spec
Satisfaction of knowing you're playing a hipster build that's probably as far from the meta as you can get
BAMBS

Cons

Not actually as tanky as a retal warder/warlord, which I mean only makes sense. But it's tanky enough for the vast majority of content
CC resists aside from stun aren't as nice as I would like, ideally (at least there are Hoarfrost potions for freeze)

How It Works

Grenado has built-in RATA from Shattering Blast as well as a big chunk of additional RATA from the pistol. Canister Bomb gets RATA from the helmet, which also has another fantastic ability of its own: Flame Breath. We use these three abilities whenever they are off cooldown, with Wind Devils and Thermite Mines to debuff, Will of the Fallen Kings from the movement augment for another big RATA hitter, and Wendigo Totems for extra healing if needed (it sounds like a terrible piano build but I promise it's really not that bad in practice). The build uses as much OA as it can get, not only to do more RATA damage generally, but also to take full advantage of Shattering Blast %crit damage. My highest damage dealt so far is over 2 mil.

Sustain comes from health regen and healing from Dryad + Tree of Life, with a bit of Wendigo Totem on top, though that's more of an extra comfort than a necessity usually. Demolitionist and Shaman are a great combo for that, since they both have regen in them. You'll have between 900-2k regen depending on procs. Incidentally, Tree of Life also takes care of our energy problems.

Gameplay is basically facetanking most stuff while throwing bombs and breathing fire.
Devotions

The use of Dryad + Tree of Life for healing has been covered above. I also took Targo the Builder, because especially after the buffs last patch, both its nodes and its proc are amazing and will greatly boost this build's survivability and damage. The rest of the picks should be fairly self-explanatory for retal.
Gear

Note: helm crafted for %armor

As can be expected for lightning retal, we combine pieces of the Dawnbreaker and Dawnguard sets. The exceptions are the pistol, which is a build-defining item, and the chestpiece. The stand-alone Mythical Dawnshard Hauberk sees use here rather than the Dawnguard Plate, because its fire to lightning conversion is actually useful for this build. Plus it has quite nice stats and a pretty nice proc too.

It might be sacrilege, but I'm not wearing Thornhide pants mainly because it would require too much rebalancing of other gear to compensate for the missing stats. Also though, flat elemental retal damage is better for us anyway than physical (we have double elemental RR, and only convert a little physical), and the proc/pants themselves also aren't terrible.

Eye of the Storm is used instead of other retal relics because it gives a massive amount of flat damage (especially after 1.1.9.2) as well as +1 to all skills in Shaman.
Performance

For the stuff below, I use the 2nd GT link - the "extra healing" one. There is no change in gear or devotions involved. Basically the one change is that I take points out of Storm Touched/Ulzuin's Chosen and put them into Wendigo Totem and Blast Shield for more survivability.

SR 90 is actually surprisingly comfortable with pots if you play carefully. I did a couple of 90 runs. (Got Grava'Thul in boss rooms twice in a row, FML lol). I think the build is capable of climbing higher, but I haven't the patience to try right now.

SR 75-76 are very easy farming with the normal setup.


SR 90 Boss Room, first run

SR 90 Boss Room, second run

Lost the timer in this one due to a careless death in the shards, oh well.

Callagadra

Calla can be tricky, you can't just stand and facetank the whole way and expect to live. Especially in the second phase, you have to kite out of stuff a bit. It's a fun challenge though, and very doable.

Ravager of Minds

Easy facetank, you can actually just use the normal setup for it; I did the first time.
Final words

As always, thanks for reading, and please let me know if you have any questions or feedback.