The Guardian of Death's Gate is an odd weapon that grants both pet bonuses and Soldier skill bonuses, giving the impression that pets Death Knight is somehow possible. The weapon has plenty of juicy bonuses - including flat RR on weapon hit and 180% Vitality damage on top of the 250-300% Total Damage this weapon provides. This makes it a suitable weapon for both pet and non-pet builds, and I will showcase one of each.
First is the pet Death Knight. Now with the additional pass on pet resistances, this build is very similar to the Skelemancer Ritualist I created except it foregoes damage from having Primal Bond and a Primal Spirit for much more sturdiness and less buttons to push. Cabalist will still reign supreme for Skeleton builds, but this Death Knight has carved out a niche in becoming a decent pet build.
I should give a shoutout to Gargobolo, who attempted a hybrid Death Knight's pet build using Urobrook's Reaping. While the results are impressive in their own right for a hybrid pet build, it highlight's the problems that hybrid pet builds tend to have: pet gear provides no damage, hampering the player scaled part of it, and pet resistances are tanked by the lack of gearing options, hampering the pet scaled part of it. This build foregoes going hybrid and sticks to being a pure Skelemancer.
Pet stats are with permanent buffs only and do not include Call of the Grave + Soul Harvest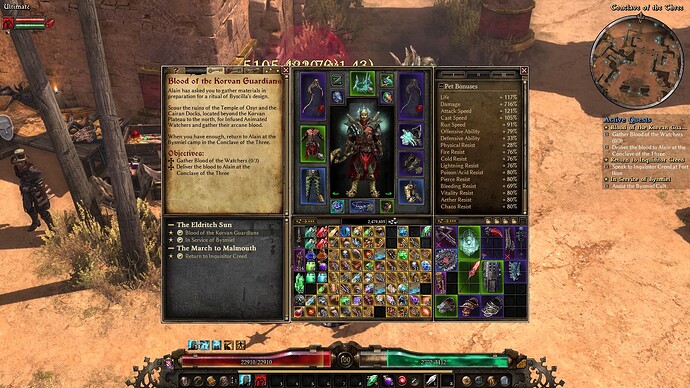 The key to the build is combining Guardian of Death's Gate with Spectral Crown to arrive at a 4-second recharge time to Raise Skeletons. Note that I need a double-rare MI just to approach capping pet resistances, and even close to the cap, your Skeletons are going to die in bunches. We take the Zap Brannigan approach of throwing more men at the enemies than they can consume until you come out on top, but the pet stats are suitable enough that the Skeletons can chew through a horde in decent shape, especially when Mogdrogen the Wolf & Call of the Grave is active.
Sustain is decent enough with our large health pool - when in SR, definitely don't be afraid to step back and leash the enemies until they return to their spawn point - SR is notorious for throwing massive amounts of enemies at once, which is enough to wipe all the Skeletons at once. If you stick to not biting off more than you can chew, you can replenish your Skeletons and have them whittle down enemy hordes until you complete the chunks.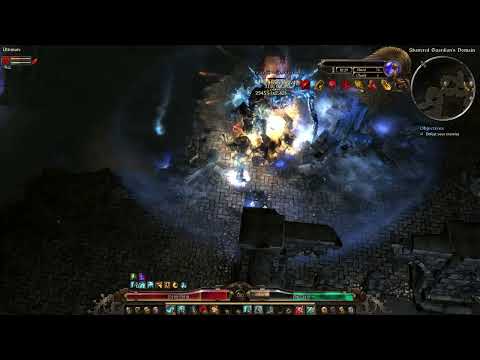 EDIT: Now with a Crucible completion - this build is actually approaching good, please send help.