Acolyte of the Dying God
https://www.grimtools.com/calc/4VxX1deV
This is a VERY HIGH DAMAGE flame Albrecht's Ray build with bonus damage from Pyran's enhanced Devastation and other goodies. With 160% Crit Damage to it, Albrecht's *Flame Ray can critically hit for up to 130k six times per second, dealing a potential 780,000. That's without introducing Devastation with full flame conversion, Rain of Fire or Fissure. The highest crit I've seen with Crucible buffs is 192,000. This would have been either from Devastation or from Albrecht's Ray. Either way, with all proc damages and skills active, the damage would be sustained for over 1,000,000 per second for the duration (about 8 Seconds with Devastation).
The build is a glass cannon, with only about 9k hitpoints. It helps that you heal for 4% of AAR damage (which is a lot due to the damage output!), with strong damage mitigation from Maiven's Sphere of Protection, Aura of Censure and Inquisitor Seal.
Here's a quick video of frying everything in Crucible.
While the build IS fun to play with Crucible buffs, it's low HP makes the character quite precarious to play otherwise. The damage output IS fantastic, and the ability to down many bosses within seconds is a lot of fun, but fighting anything that forces an elongated fight (like Kra'vall) may prove risky and difficult.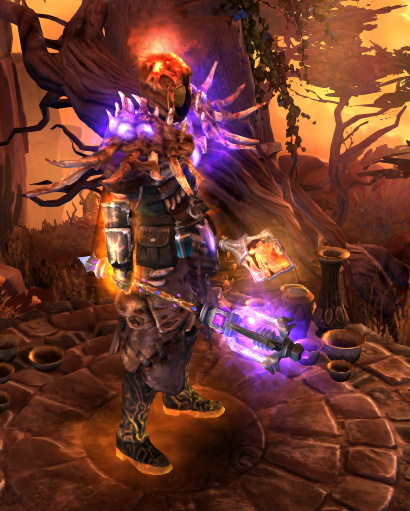 Click Here For Image of Stats, Skills and Gear
**Enjoy

**