This is the frosty mod we've been working on for the larger part of 2022 and that was used for the Grim Dawn Community League Season 4, aka GrimLeagueS04, which took place between the 17th of September and the 17th of December. Now with this offline version, anyone can enjoy it like any regular mod!
DOWNLOAD GrimLeague Season 4
DOWNLOAD Season 4 Custom Rainbow filter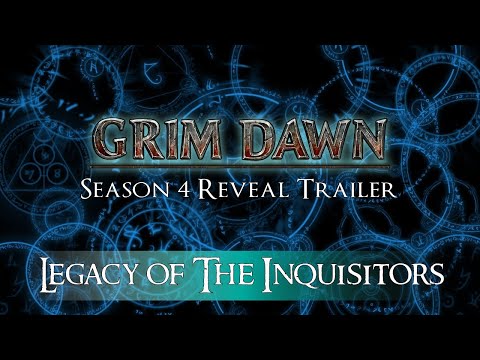 Main Features
New Act
The Asterkarn Mountains await with new maps, a new faction, new quests, new monsters, new items (MIs, epics and legendaries) and new lore all for you to explore! Looks like those Black Legion guards could use some help around the Asterkarn Mountains Rift…

Six Boundless Roguelike Dungeons
Enter a new Roguelike Dungeon and unveil its forbidden secrets… but even the Roguelike Dungeons you might be familiar with offer new… BOUNDLESS challenges (6 fully scaling Boundless Dungeons offer a new alternative endgame to the Shattered Realm)

SR Compression
Most of the shards in the Shattered Realm have been shattered and the remaining ones have be held together by more chunks than before! Enjoy a quicker increase in difficulty with 1-15 shards instead of 1-75 shards and 8 instead of 4 chunks per shard. One shard now provides the same difficulty and loot as two shards did before (e.g. shard 10 = 50-51, 13 = 65-66, 15 = 75-76, clear shard 5 to gain all attribute/skill points in ultimate and shard 12 to buy the full Shattered Realm Set in ultimate difficulty).

Hunter's Blind - Faction Center and Hub
Revisit the Hunter's Blind and check out the new rewards for Hunters Coins! Once the Warden is defeated and the Act 1 main quest is completed, take the boat on shore near Devil's Crossing.

The Ambush Mechanic
Ghost ambushes from S03 make their return whenever you dare to open a chest. This time not only with 3 but 6 different ghost nemesis will await you on ultimate difficulty!

Six Superbosses from Season 2 & 3 make their return

Meh-mesis? more like actual Nemesis! Nemesis are higher level than in the vanilla game and scale up to level 120 in ultimate difficulty

Support for the "real game"
Season 4 comes with grimtools support via Build Calculator, Item Database, Monster Database, World Map

Mogdrogen/Ravager/Callagadra/Crate fights are on a 22m 30s time limit, else they heal to 100%

check out the full feature overview & trailer

check out the changelog compared to vanilla
Installation
Download mod from the link above
Navigate to your Grim Dawn install directory → mods folder
Place the downloaded archive file in the mods folder
Right click on the archive, choose "Extract Here" option
Start Grim Dawn, on the left side, click Main Campaign > Custom Game select "GrimLeagueS04 ~ world001.map" and press accept.
To play the compressed Shattered Realm in this mod, select "GrimLeagueS04 ~ shatteredrealm.map" and press accept.
To confirm the installation went properly: double click on the mods/GrimLeagueS04 folder and inside you should find 2 folders - "database" and "resources"
A huge thank you to everyone making the Community League Season 4 come to life!
SeriousStan (Mod Creator)
GroundZero (API/Website)
MrMonday (Launcher)
Houck (Map Maker)
Touma (Music)
ArmoredOtter (Lore & VO)
Eluminator (Testing & S04 Rainbow Filter)
Dammit (Grimtools Integration)
MikeFic (PR aka stuffed animals enjoyer)
Scrabu (Lore)
RudeGirls (VO)
SeeShark (VO)
MajiMari (VO)
HyjinxtheMule (VO)
Ohld (Testing)
Fromangee (Testing)
ArtCrusader (Testing)
Plasmastrike (Testing)
Thank you to all others that are (still currently) missing on this list and to everyone that participated in the event! For further information and to stay tuned for upcoming events check out our website and discord.
Any FEEDBACK is apprechiated, happy holidays, see you next year for Season 05!
May the blooms be with you taken…