Here is one for players who are interested in a different form of play style. If you like rushing as fast as you can to 100 in Ultimate, then this is not for you. If you enjoy disciplined character development, challenges and building a character that could exist in the lore and history of Grim Dawn then read on.
I have myriads of characters at different stages of development and enjoy playing all of them. Every now and then I feel the need to play a character that has limited resources to present a different aspect to the character progression. For instance, I have a character called "Yellow Canary" who is only allowed to equip yellow items. Another is "Green Hornet" who can only equip green items etc. Obviously these personal disciplines cannot be enforced in game and must be maintained by you. You can of course cheat, but then you should not be playing such a design in the first place.
Why would you do this you may ask? Before you berate the concept, give it a try. It really gives the game new challenges and a lot of depth and gratification.
I came up with the idea of creating another challenge sort of character and have based it around the idea of an initial CLASSLESS build that can eventually slowly introduce masteries and finally skills when it becomes apparent that progression is no longer possible in the current state.
Meet - "Jane Doe"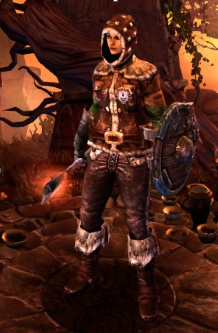 My character is currently classless at level 43 and is about to enter and kill the Loghorrean and has been absolutely intense in battles to reach this point. You quickly learn how to optimize position, retreat, attack, reposition etc. to the gain the best advantage with your limited resource pool and can add great insight into the strategy of some of your existing and more powerful characters.
My idea and strategy is to play as far as I can with no class through veteran,elite,ultimate. When that becomes a stalemate, I will select a mastery for her and FILL the mastery bar. i.e., Jane has learned a mastery, but cannot use skills until the mastery is full and so forth for the second mastery.
My NPC and lore, back story etc. for her is …
BASED ON NPC:
Edwin of Devils Crossing
GRIMDAWN LORE :
"Jane is the daughter of cook Edwin at Devils Crossing. She had often been present when her father was giving much needed supplements to the many weary travelling heroes and had many opportunities to eavesdrop on their tales of the Grim Dawn horrors. Determined to make a difference to the struggle and being naturally strong she decided to join the battle. Arming herself with her father's old axe and a battered shield she found in Angrim's junk pile, she set out into the unknown."
ACTUAL HISTORY:
"Jane initially only had her own wits and physique to keep her alive and effective in the battles. While being able to handle most of the incoming horrors, she was fully aware the she needed some training to be able to kill the real monster masters. Later in her pursuits into Malmouth she reunited with a old family friend, an inquisitor named Creed, who was able to train her in the arts of warfare and help her to understand the power of devotions from long lost shrines, eventually enabling her to become the familiar hero we all know as JANE OF THE CROSSING'"
Old family picture in Devils Crossing cookhouse - their last meeting
I found that the standard Explorer set fitted very much with her father's looks and theme and is actually a very good low level and easy set to get equipped with here and has some really useful resistances.
It is not easy progressing as classless, but some things can really help. Remember that you only have a few slots that you can assign a shrine devotion skill to as you will have NO skills from masteries. I currently have the following (These are quick shrines to get, but you can go your own way)
Aetherfire from constellation Imp on granted right hand Fireblast skill from Searing Ember.
Dryads Blessing on constellation Dryad on Troll Rage relic on left hand.
Bull Rush from constellation Bull on granted left hand Lightning Nova skill.
Scorpion Sting from constellation Scorpion on movement Rhans Might.
The challenge is to resist the temptation to enable mastery and skills as far as you can.
These ideas and concepts are NOT PHYSICALLY enforceable in game lore and history I know, but hey, who is stopping you making your own lore and stuff in the game - at the end of the day it is your game and fantasy.
I hope maybe I have inspired some other custom challenge builds with lores and some nice looks.
Angrim's Brother - Was he a bad seed?
Sybil's Father - Revenge for Milton?
Collin Travervin - Mountain Deeps protector in honor of his sister?
Annabel - Daughter of Harmond (Devils Crossing) a returned with Aetherial damages?
The ideas go on and on and are endless. As I have stated there is no way to enforce the rules of a custom designed character in game, but if you are from the classic RPG world, then your character is real in your head and that is what matters.
Jane attack with just basic component granted skills lightning and fire - kicking ass