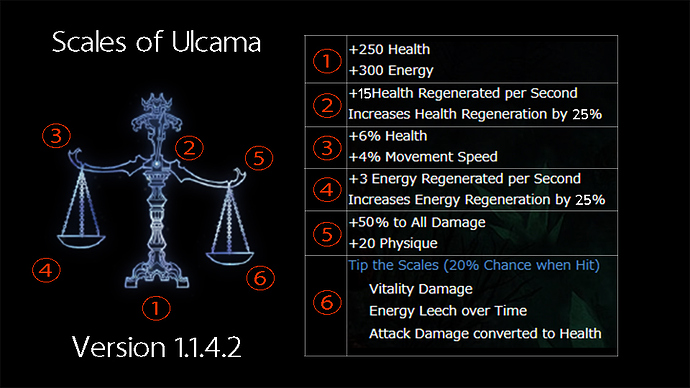 Well, constellations with flat-RR currently have three choices, but many builds choose Revenant. Some builds use Manticore, but few (or none) builds use Ulcama. So I think Ulcama should be more competitive.
my proposal:
Swap the positions of 2 and 3, 4 and 5.
+4% Changed MS to Total Speed.
Add something useful in the lower left position. (Race damage increase / decrease,% OA / DA, etc.)
How about changing Proc's Vitality damage to weapon damage? Many Vitality builds select Rattosh + Dying god + Revenant. If you choose Rattosh + Dying god, you can't afford 8 yellow.
and Instead of lowering the absorption rate and reducing the cooling time to 3 s (twice slower than now), use a small range of AoE. If AoE is not used, consider setting the cooling time to 0.8s (half the current time).
Vote below has nothing to do with the contents of my proposal.
Please vote for what you want.
Also welcome comments. Please tell me your opinion.
Yes. Both tree and skill need improvement.
Yes. Either tree or skill needs improvement.
No. It is enough as it is now.