Lets not forget the Kickstarter too
To be fair to Wolcen (just a tiny little bit) - they are releasing 'officially' about 5 years after their KS. Grim Dawn released officially about 4 years after its own KS. A years difference. Wolcen probably could have released in a similar time-frame if they hadn't of screwed the pooch so much.
The differences between Wolcen and GD's early access periods tho is vast and Crate handled theirs just flat out better in every single way in comparison to the way WOLCEN Studio managed Wolcen.
---
And lets not forget that WOLCEN Studios is sitting there with their now 40 frikkin' devs in comparison to Crate's meager 13 devs (and they only built up to that number over the years, slowly).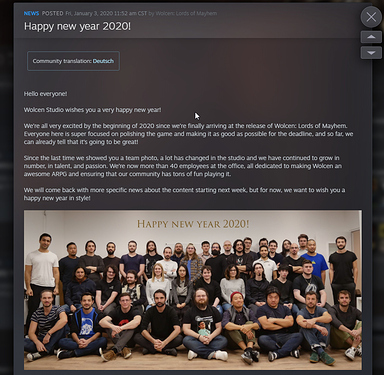 …plus WOLCEN Studios had a little "help" even from Tencent! which explains how they could even afford to pay the salaries of 40 employees year over year…
https://medium.com/@projectmq/tencents-games-without-borders-support-for-indie-devs-worldwide-b69d1ecb3b9