1.0.6.1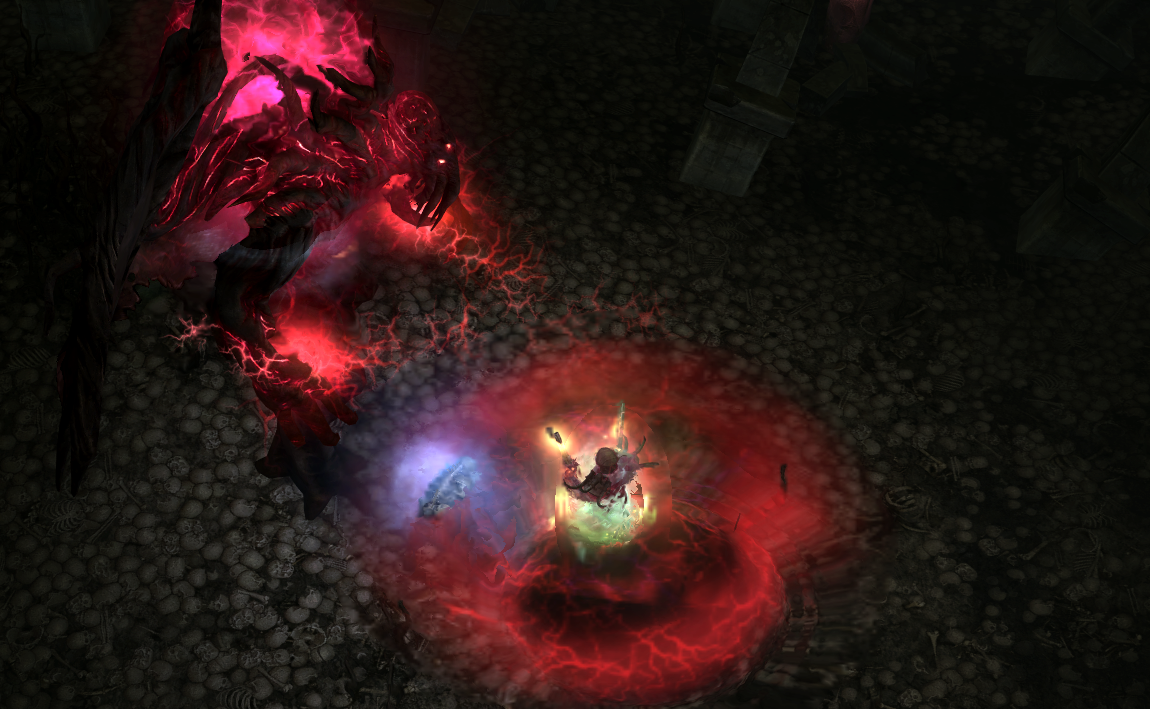 So due to Crate made DarkBlaze set no longer the worst set in the game's history I decided to check these horrible nerfs in practice.
Honestly, it's impressive. New bonuses are real nice. We've got one more decent pistols build.
Pic with Hungering Void up
Grimtools link: https://www.grimtools.com/calc/eVLzL3ON
Nemesis video: https://www.youtube.com/watch?v=l-ysNzLUxfE
Alternative offensive setup using devotions route by toilagamer852
Pic with all buffs
Grimtools link: https://www.grimtools.com/calc/RVvqmdk2
Gladiator Crucible video by BladeAndShadow: https://www.youtube.com/watch?v=TN5QD88ehpY
Skills and devotion description:
Demolitionist
Fire strike - main damage source due to fire and lighting to chaos convention. Main skill and Brimstone have highest priority. Explosive strike doesn't work with item modifiers.
Flame touched - flat chaos(converted), and OA, maxing. Temper is 1-point passive.
Blast shield - circuit breaker, helps much, maxing it.
Blackwater cocktail - flat resistances reduction(Agonizing flames), also cool devotion activator and enemy OA and physical damage debuff.
Thermite mines - resistance reduction(Hellfire mine).
Flashbang - target's DA debuff, confusing enemies(trash only), fumble and Impaired aim for all.
Vindictive flame - total speed, very important. 11/16 - is the best points investment. Ulzuin's wrath is meh.
Occultist
Solael's witchfire - very important, flat chaos and attack speed. Second rift - 1-point passive.
Possession - flat and percentage chaos, damage absorption, chaos and skill disruption resistance. Maxing this.
Curse of frailty - chaos RR due to Darkblaze set modifiers.
Blood of Dreeg - flat chaos, attack speed, OA, health restorer, physical and acid resistance(Aspect of the Gurdian).
Devotion
Dying god - OA, crit damage, flat and percentage chaos, total speed, chaos resistance.
Revenant - attack speed, ADCtH, HP, vitality resistance.
Charion of the dead - OA, vitality resistance.
Jackal - total speed.
Wretch - flat chaos, bleeding resistance.
Ghoul - circuit breaker, ADCtH.
Solael's witchblade - resistance reduction. Very important.
Hawk - OA, crit damage, -% cunning requirement for ranged weapon.
Empty throne - resistances.
Solemn watcher - DA, resistances.
Eel - blue points requirement.
Sailor's guide - blue points requirement.
Leveling tips:
Use any AoE skill(Bloody Pox, DEE, BWC) for fast leveling.
For gear Bloodsworn Repeater with any good affixes is recommended.
Some nice helm, shoulders and chest can be bought from vendors. Also periodically check faction merchants for gear with good resistances.