[1.1.5.1] Octavius AoM/Fw Internal Trauma Warlord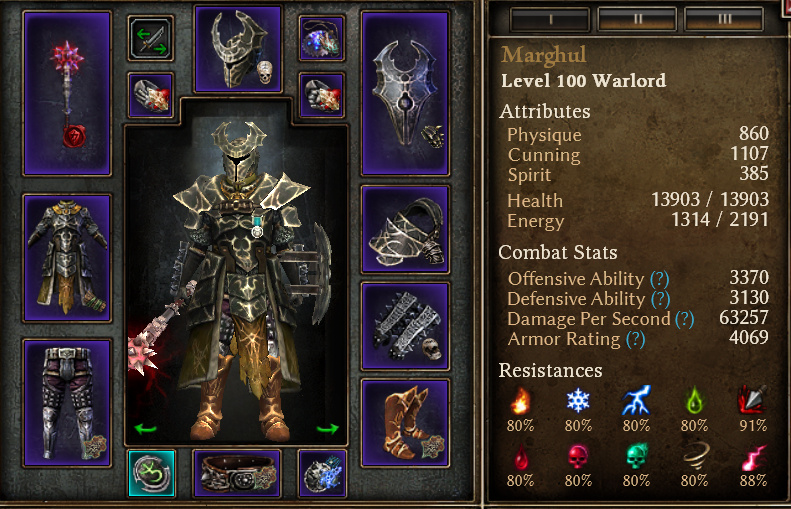 (with Justicar proc and Ascension)
GT: https://www.grimtools.com/calc/m23ddL7V
.
.

[1.1.2.2] Octavius Aegis of Menhir/Forcewave Internat Trauma Warlord
This is a continuation of [1.1.1.1] KING OCTAVIUS (everything++). I decided to make a new one because Octavius is one of the builds that was hit the hardest in 1.1.2.2 and it's basically a different build now.
INTRO
And imo it's in a very good place now. It's a proper S&B tank that does pay the price in dmg. However, what Crate might not have taken into consideration is that halving Octavius' damage also affects its tankiness. And to a great extent. Despite not being a classic autoattacker, this build uses adcth for sustain and the previous 7% is just not enough with the new dmg values.
There were 2 ways to deal with it: a) increase adcth at the cost of shield stats and/or increase dmg at the cost of tankiness, or b) leave adcth as is and increase tankiness. For the longest time I tried option a). I tried maxing Laceration, putting Seal of Blades on the shield, dropping all shield stats to minimum, using only offensive augments, etc. But I failed. Octavius became squishy and the dmg still could not compete with other builds at the same level of tankiness. Only option b) remained and that required a completely new devotion setup.
NOTE: I did not explore the new Dryad due to lack of time and this might be another option increase survivability of S&B phys builds.
S&B in 1.1.2.2
With nerfs to Overguard and Shield Training shield stats seem overpriced now. If it wasn't for two very important procs on block - Stone Form and Targo's Hammers - I would have probably dropped Overguard and Shield Training to one point. It is quite possible that this is the way to go with S&B now. I'd love to hear what some other players have to say about this.
BUILDS
Unfortunately, the era of one Octavius setup being able to do everything
at top-tier level is over. I was forced to make two different setups - one for crucible and one for SR. Both setups work in crucible and SR but the difference in performance is notable.
The culprit is oa. Phys and pierce builds cannot allow themselves to compromise on oa because Assassin's Mark - one of their main sources of rr - procs on crit. The easy way around it is Open/Closed rings. But they don't always work well in SR because they proc on kill. Lack of easy source of oa from Open/Closed rings in turn affects the choice of exclusive - Oleron or Mandate - and a couple other things.
UPDATED 1.1.4.1 SETUP: https://www.grimtools.com/calc/8NK7A9JN
Crucible setup and 7:10 4b/VB CoD run
SR setup and No aggro abuse SR 75 run with Grava
OUTRO
I haven't had enough time to try and test everything. If your build is better than this please feel free to comment and share your gt and vids and I will gladly put it in op.