Introduction
Korba set is emblematic set, full of backstories and character, yet is not used fully often. In DW melee meta were used N&O, also Malakor and Chillstrifes. But this is specially dedicated to old man weapons. Let return the pride to him. Recently the weapons were buffed and provide more damage to Savagery. So build uses typical DW Nightblade structure+RoS as AoE nuke with low CD. Before I continue credits to @Superfluff for creating excellent Korba build in AoM!
Build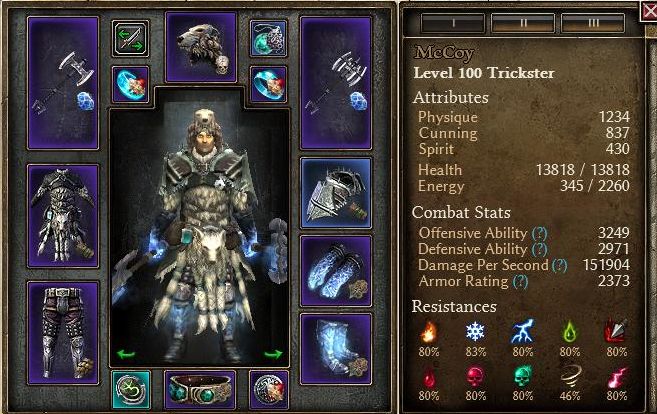 permanent buffs, including LA and Savagery
GRIM TOOLS- https://www.grimtools.com/calc/M2g9xjEZ
Devotions here are standard for DW melee, no twists. Decided to put Savagery on Murmur for procing and Wind Devils to Ultos.
Items other than set some of my decisions are: Barbaros pants, they have some bonus to RoS, other than OA, DA , physical res and proc. Boots are used cold ones to boost % cold damage and utilize the massive flat, but also slow res. Only down side is the abysmal size of DA, but can't be perfect. Shoulders&Gloves are BiS for their boost to Lethal assault, a important buff. Relic is Serenity, another defensive layer, also nice set of resistances and +1 to both classes a extra boost on point hungry build. I crafted the amulet with stun resistance, helm with armor. The DA difference is based on my relic completion bonus, which is DA.
Performance
This build is tailored for Crucible, it's consistent and relatively safe for DW Trickster. Times vary ofc, but mine are between 6.20-6.55. Good players can do 6 minutes, but it's hard to do 4 runs even if you are top player. Anyway it's nice build and it feels comfortable and strong, but not overpowered. Video from Crucible: