Belgo always reminds me of this bad boy-Shredder from TMNT
Introduction
As a DW melee aficionado I always wanted to post Belgo, truly one of the two poster boys for DW melee buids. Now the build is here! Actually the thing that was stopping me was the fact Belgo have been posted so many times, so I don't really can bring something to the tables. Still is Belgo…
Credit to previous authors, especially to @Superfluff and @mad_lee
Build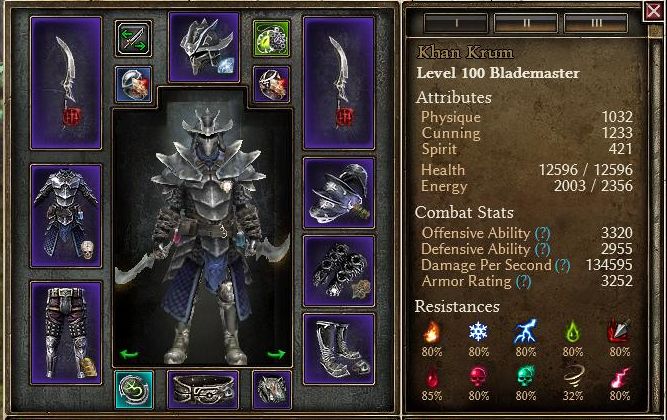 damage breakdown for Belgo Strikes
GRIM TOOLS- https://www.grimtools.com/calc/RVvL1LvN
Offense:
Cunning improves both damage and OA. With Harp and Fighting spirit build have 4.1k OA or above in Crucible ~80% of the time. Also massive DA shred from Markovian. So this leads to gigantic orange crits. Single target damage is great as usual. AoE is minimal. So pick your targets and slaughter everything. In Crucible with use of aetherward oil, you can have racial bonus to all enemies except Eldritch.
Defense:
Unlike some glass cannon versions, here are present Ghoul, Serenity and Prismatic Diamond. Also nice OA shred, and decent health pool. Armor and physical resistance in current configuration are good too. So build should be very safe, well no…
Gearing:
Dual Slicers for the win. Decided to use one MI item- the Kaisan amulet with what I consider BiS affixes. Cheaper options are Beronath amulets or duh, Night's Embrace. Boots+Pants have nice procs, DA and physical resistance. Craft the items with slow resistance.
Performance
Build can do nice runs, but with low RR is super dependent on mutators. Also enemies combinations can push the build even by whole minute. Kaisan is the nastiest enemy no doubt, he can kill you or slow you.
Success rate is probably like 70% or so in my hands. And Belgo is pretty much suited to my abilities. I know how to push it far

Video from Crucible 5:51!
In SR build is absolutely destroyed by trash mobs! Just DoT damage and heroes are making fun of me. Please do something about melee builds, Z!