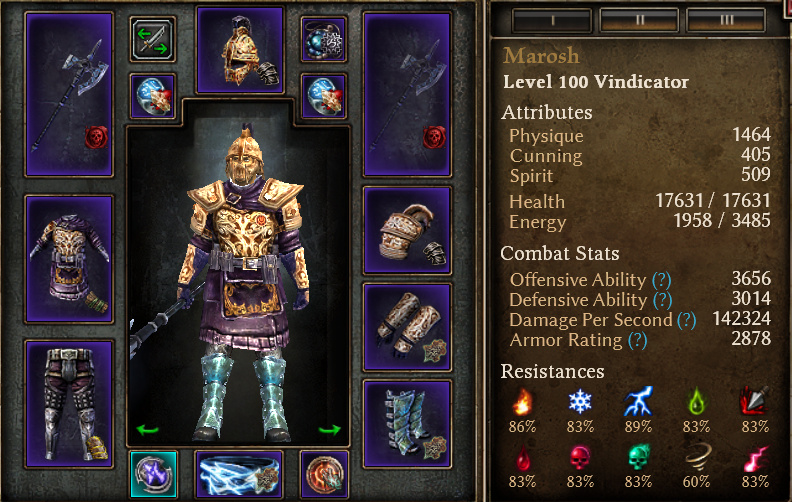 (permanent buffs + Deadly Aim)
.
GT
https://www.grimtools.com/calc/pZrOg0LN
(crafted with 1 x slow res, 2 x physique)
SR 90
https://youtu.be/bI_FBLZV-CY
(Cruel+Brutal)
Crucible Naked
https://youtu.be/r6ydTSmHDmg
(starts at 1:28, the first minute is my failed attempt at SR91)
Crucible 3B/VB
[REDACTED OUT OF FEAR OF REPERCUSSIONS]
(just kidding, here)
Alternative setup inspired by Mad_Lee: https://www.grimtools.com/calc/wV1mlqmV (best crafted with 1 x slow res, 1 x armor and 1 x physique)
.

STORMREAVER VINDICATOR - STORM TOTEM/STORM BOX OF ELGOLOTH/SAVAGERY HYBRID
…aka Best Build in GD. A little remake for the increasingly difficult environment in GD. An alternative setup here by Alexgoldfish.
Some explanation for first-timers. This is a very tanky caster build with Savagery melee autoattack for extra damage and sustain. It's an all-time classic, and has always been one of the best builds ever. If you want a very strong build with more than one button to press - there you go. The only downside is that it's what I call a foxhole build - has quite a long wind-up till you deal max dmg upon entering a new area. Another downside is that in deeper endgame it depends too much on Feral Hunger for sustain and if you get unlucky and it doesn't proc when you need it you might die. But this only matters in SR80+, naked Crucible and celestials. Also, low phys res - but this particular setup makes up for it with excellent armor and resistance overcaps.
.

TOPICS FOR DISCUSSION:
Conduit of Wild Whispers vs. Aetherbolt Pendant. After Alexgoldfish's impressive results (link above) I was leaning towards Aetherbolt Pendant for a long while because there's nothing like extra 10% RR. However, after some deeper testing in 1.1.4.2 I decided it's time to go back to the classic- the conduit. It is undefeated because it gives 110% uptime to all 4 Totems and quicker setting them up, +1 to shaman is better than +1 to Inquisitor and resistances is king. Aetherbolt is slightly better offensively, though.
Barbaros vs. Tranquil Mind. The two pants you can never go wrong with (the third one - Harmony pants - is making a comeback now due to overwhelming disrupt). Barbaros is better here. 61% slow res is enough for a hybrid non-spam caster. Slow only affects Savagery and Tether. The only problem this build has is phys res and, due to absolutely undefeated Wyrmscale Footguards, pants is the only extra source we got. Barbaros got better stats.
Korvaak's Brand vs. Calamitous Desires. That's right. Calamitous does fit in here very well, and I was undecided for a long while. Calamitous got very high acid res which is much needed, and it's craftable, allowing for more options when shuffling components and augments. But Korvaak is ultimately better. Attack speed, flat and max res make it so.
No Prismatic Diamond? Not a single one! Prismatic Diamond is indeed the best helmet component there is. But combined defensive benefits of 3 armor absorption components are ultimately better for an all-round do-it-all setup. And Stormreaver doesn't need more health or energy. But it does need more res and armor to make up for very little phys res.
Nerfs? NO!