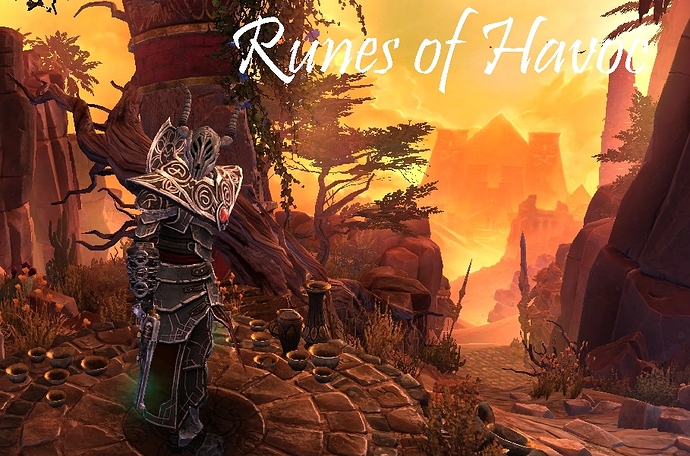 Introduction:
There has been some talk of doing anyway with the arming time on runes lately. While I think the arming time could come down a small amount, that arming timing is part of what makes the skill unique. I believe that they function well for what they are. This lead me to make a build which utilized both runes to their maximum potential. This build uses the unique pierce to physical conversion from
Mythical Havoc
and several sources of elemental to physical conversion to fully utilize rune damage. Shout out to
@sir_spanksalot
for believing in the build during the theory crafting stage

The Build: https://www.grimtools.com/calc/JVlbK5lN
As mentioned above we use dual Havocs, as much elemental to physical as possible,try to get maxed artifact handling, and the relevant rune skills. Since we have such an excess of plus inquisitor skill, it makes sense to 1 point the wps from the class as well as taking righteous fury to 16/16. It makes for a very good filler. The physical res to storm box is taken for obvious reasons. The real secret sauce to the build is binding Blades of Wrath of Hagarrad and binding Falcon Swoop to Rune of Kalastor. With 20/20 artifact handling the runes share a cooldown with said devotion procs. They also shotgun from where the rune is cast. Since kalastor hits with ignition on cast and 8-12 fragments, it almost always will trigger on every cast. The same can be said with Hagarrad, each of the 9 projectiles has a chance to proc blades of wrath. This build has 49% damage to cthonics, 24% to undead, 15% eldricht, and 15% to humans. This helps a lot as the most physical resistant nems fall into those categories. Scales of Ulcama are taken to help sustain health and energy, as well as providing some flat rr to bosses. (it isnt super reliable application ofc)
I currently am using x3 armor crafts and x1 slow res craft.
For SR I would recommend taking a sacred plating on your helm instead of a second sanctified bone.
A no green version using spellscourge shoulders (@mad_lee 's suggestion) - https://www.grimtools.com/calc/4ZDvQKQ2
Performance:

This build will clear 170 crucible around 6mins or a bit under on a very reliable basis. Vanguard banner will out slightly perform storm banners due to how many different projectiles are being put on the screen at once and how high our crit damage is. Hail the Rune King