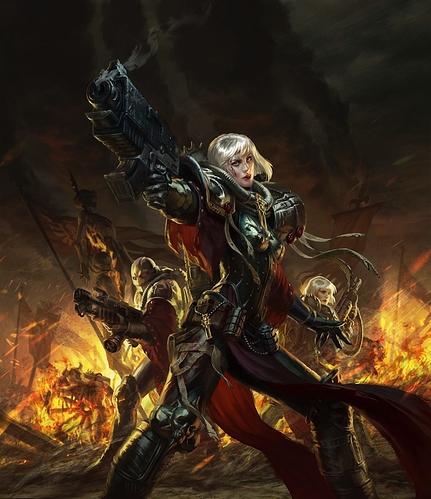 There are a few items in this game that give me 40K vibes and Stronghold is one of them. It is one of the most versatile and balanced sets in the game.
Offensively it packs great punch with 1h due to the set WPS and the granted shield bonus and the Shield itself at just 0.6 sec recovery, with the set bonuses needs no other sustain. You get medium basic defence and a hand cannon .
The build is tweaked to do SR 75 well and fun with the capability of delving into SR 81 and has been one of the most pleasant SR experiences so far for me.
Grimtools: https://www.grimtools.com/calc/M2g9adWZ
You will notice no points in Bursting round. Power of the build is from Shotgun/multiple shot wps and Bursting rounds interferes above well above 100%. Use a void seal if you really need 101% only wps


Procs up. Dps can be higher if tweaked for it but my goal is reliability, which matters more than in cruci
SR 75https://www.youtube.com/watch?v=njeM-bwO_1c
SR 81 https://www.youtube.com/watch?v=tJFxV-iCPmE&feature=youtu.be *
(I recorded in higher quality and videos have almost 5 GB. Since 80+ takes longer i cannot record all chunks cause it gets too big so it's chunk 2 onwards. You will have to excuse my SR 81 video, was my first time there after a long break and apparently wandered around like a confused Dodo trying to aggro the bosses . Them being all small sized probably contributed)*
At SR 80+ you will want to aggro 1x at a time and also take care in between chunks. Do not rush Hero mobs, especially with Arcane. Get some shattered souls first
I've also come to value CC more since Ulo from Crucilbe is not holding our hand any more. From the first draft I've made minor tweaks and so I use things like Seal of Resonance. But, I also recommend Radiant Gem which makes you immune to elemental attacks.
Kaisan Amulet I strongly recommend the CC version with relevant resistances. It makes a lot of choices so much easier. Doesn't have to be godly roll, just ok resists.
Good luck and tread SR with faith in the Emperor