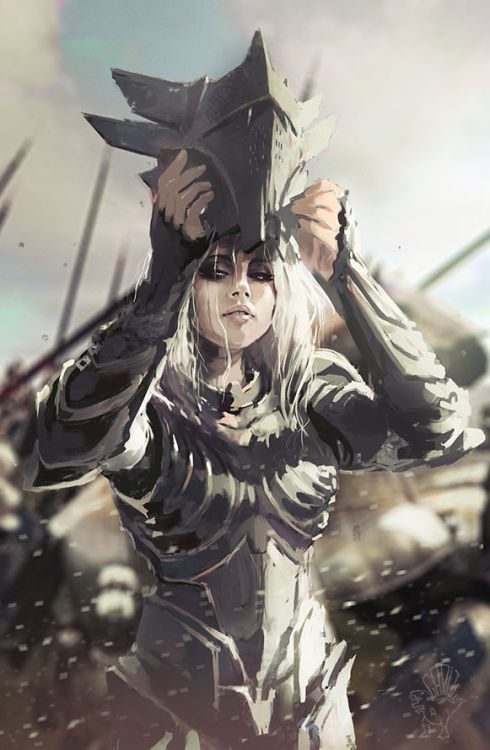 In times of war, generals do the planning. They use their maps and sandboxes to send their units where they are needed.
But on the battlefields, a different kind of leader is needed. Where fear threatens to overwhelm soldiers, the iron smell of blood is everywhere and the cries and pleas of the wounded is in everybodies ears, there has to be someone who inspires and encourage the common soldiers, to stand and fight.
These people are called Warlords.
The Build


Don´t bother with the low DA; it´s Fabius.
GRIMTOOLS
GRIMTOOLS FOR SR
Update for 1.1.5.0: GRIMTOOLS
Build Explanation

First build I post without Shaman. And it plays quite different than any other build I have in my list. As you can see, there are exactly 4 (5) buttons if have to press and there is no cast for kiting or something like that. No outside healing. Quite interesting…

Gear: You don´t need any green items. But you could change Sanctified Bone or any other component for a Prismatic Diamond, especially when you want to speed run Crucible. My biggest fear is still Grava´Thul in deeper SR shards, so I kept it. Another change, which could possibly made: Relic. Well, I am a "Wussie" (Thanks @TomoDaK ), so I use Serenity. But if you want even more damage, you can try Deathstalker or Azraaka´s Epoch; the first has additional RR and another Bleeding source, the second will let you feel like Maya with so many pets and the Sand Devils really do a lot of damage. Both could give juicy Physique/Cunning-Percentage on completion (up to 5 %)…more DA/Health and/or Damage.
Devotions: Standard 2H-Melee Bleeding Devotions; as said in my Bleeding Collection thread, you can try to squeeze even more damage out of this build. But you will loose Ghoul…it would look like this: Frenzied Berserker.
Gameplay: Very easy. There is nothing you can press besides Blade Arc, War Cry, Ascension, Rune and perhaps Pet Attack.
Stats: Get as much Physique as you need for pants. Rest: Go for Cunning. All 4 (!) crafted items are with Physique-Bonus (plus Cunning on Serenity)
OA/DA/Armor: 3.000/2.900/2.900…fits well.
RR: A little bit low. 88…well, best we can get here.
AoE: Pardon me? What are you talking about? We don´t have any.
Sustain: This build has a lot of ADctH and is, strictly speaking, a Physical/Bleeding Hybrid. There is no outside heal so you have to rely on the cooldowns and on the ADctH. Don´t run away, just attack…or you will die.
Resistances: Piercing and Poison…as always when not playing Occultist.
Other details: Crit Damage. Have a look at it. Even 5 % more with Berserker Devotion. The toon here has over 100 % Crit Damage. And: We have RR for Physical Resistance so our ADctH via Physical Damage is quite good (well, we crit a lot and it hurts). Another thing: In my opinion, this build is better suited for Crucible than for SR Boss Shards. Reason: "On Death"-Proccs. "Revel in Death" is so great for Healing and Energy and in Crucible you have a lot of enemies which will die in a few seconds.
Build Performance

Because it was complete different gameplay as any build before, I had my problems with it, because I didn´t know what to do. I ran away (and died), tried to hit buttons I normally use (but there are no skills there…) but after a while I got used to it. I played it in SR up to SR 66 (and not more) because Mad Queen and Grava´Thul give me the chills with this build.

Update:
SR 75 solved.


Nery tested it in Crucible, many thanks.

SR:



Crucible:
Youtube Video by Nery (can´t imbed it at the moment)

As I said above, you can go wild and try something crazy. Take the Frenzied Berserker specc, add a Prismatic Diamond and skip Serenity and take Deathstalker/Azrakaa´s Epoch…and try to survive in Crucible. You see me interested in the results.
Leveling Guide/Other Bleeding Builds

You can all see it here: A collection of Bleeding Builds
As always: Enjoy your ride through Cairn!