Introduction
Another day another glass cannon. This one more so than others. Cold damage builds have been struggling a lot these days, and TSS builds are generally strong, but fairly balanced. But when you are able to convert TSS to one damage type with hardly any sacrifices, things get a little crazy.
Details
https://www.grimtools.com/calc/62aPMKON
Current affixes on the off-hand are BiS, but they're not super important, just get some cold/elemental damage with whatever stats you can. The build has up to 96% lightning to cold conversion and 46% CDR, and those are the stats you're most interested in high rolling on your gear.
The build is very glassy, but the spirit dump is an easy sliding scale for how tanky you want it to be. Even with full physique the build performs amazingly well.
As far as gameplay, you need to always be paying attention to your ghoul and mirror timers. As long as you never overlap them, you have some crazy uptime of nigh-immortality. Trust in ghoul, don't panic.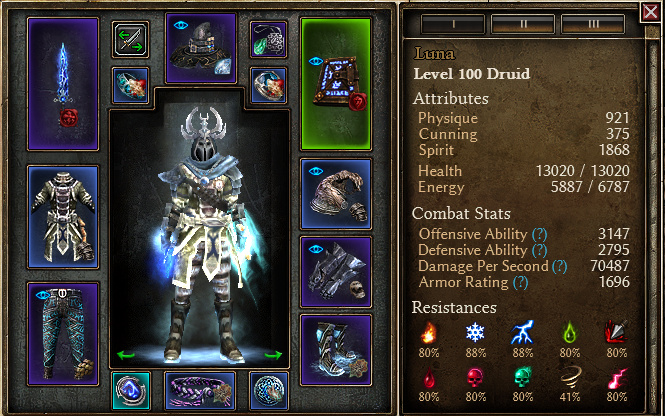 Character sheet with permanent buffs.
Performance

One video with a spirit dump and one without. As you can see, the build is incredibly fast either way. Average times are 5:15 to 5:30 in my hands with some insanely fast times sprinkled between.
Feedback
Something is clearly a bit broken here, but before I get into potential nerfs I'd like to defend the build a bit. It's not an easy build to play, I imagine most players will struggle to effectively stay alive with it. I tested it in SR briefly, and while it may be capable of doing SR 75, it's certainly not comfortable and will involve dying. This is a glass cannon, and fully epitomises both parts of that name.
As for how to tone the build down, it's hard to say. There isn't one thing here that's overpowered. The skill itself hasn't really been a problem in the past. The weapon is strong but also hasn't been a problem, and even if it was nerfed, Trozan's Starkeeper is not much weaker.
The thing that pushed the build over the top this patch was the easy lightning to cold conversion, so if the aim is to kneecap the build, reducing or removing the conversion on the shoulders or gloves is an option. I don't really like that solution either as it stymies creativity in other builds. If I had my way, I'd let the glass cannons stay fast and save the nerfs for the builds that are both fast and tanky.