burning down, last to die
laden with monstrous souls deep inside
I simply like this build. Inspired in late AoM by @mad_lee's original build, I've tried for a very long time to make it work in the cruel reality of FG. The result finally is pretty satisfying.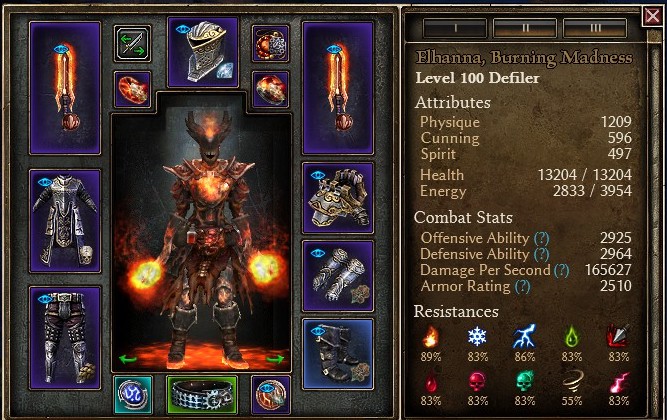 GEAR EXPLANATION
Armor - obvious choice since Justicar is the best fire-oriented set in-game.
Weapons - also BiS here as they give +1 to Necro, very useful mods to our skills and conversion (almost 100% with perfect rolls)
Belt - additional aether->fire conversion and a way to get some useful resists as Defiler is very short on them.
Conduit - for extra sturdiness and a momental RR in a big area.
PROS AND CONS OF THE BUILD
PROS
High OA/DA (almost 3k without buffs), armor, 200% as, nice damage;
Nice both solo and AoE-damage because of procs;
Relatively high RR - up to 132%;
Dynamic gameplay.
CONS
Build is somewhat squishy so you need to be careful, especially in Crucible - against Grava and on wave 169.
Q&A SECTION
What about the build's performance?
The build kills all Nemesis, Lokarr, completes 150-170 Crucible and SR65-66. Can easily go up to SR70-71.
Does the build fear anyone?
Grava is a true nemesis for this build, watch out for him and be very careful. His cleave attack in high shards can easily two-shot you.
Is the build suitable for beginners?
No. You have to complete the game at least 2 times to get 2 Blazehearts, and need to pilot your char well.
Is it fun to play this build?
After getting used to it, mostly yes.
VIDEOS
Rogue-like dungeons' bosses - Gargabol and Morgoneth
LOKARR
CRUCIBLE
SR
Special thanks to @mad_lee for the original idea and help with min-maxing the build, @Nery for multiple testings and feedback, @John_Smith for recording Crucible video and giving alternative spec, and to all Safarel Discord community.
All my builds are available here: Afanasenkov26's Build collection