Monster reborn bringing back a forgotten hero from the cold winters!
Introduction
FoI is one of my least favorite skills, I never really played around it. Recently was buffed so decided to try few options. Actually most of FoI builds have similar problems - not enough sustain, energy problems, Mageslayer set lacks physical resistances or slow/stun. So I tried repairing them, which lead to satisfying results. Only issue is low OA, but this build is Ptiro style

Credit to previous FoI authors, mostly to @Superfluff
1.1.8.1 update
Some small update on this build. I find the gear used as adequate, so only thing changed is the inclusion of new MI medal, helps with sustain. Also tried few different devotion maps, I will post video with version with Attack Seru:
GRIM TOOLS

https://www.grimtools.com/calc/pZrm9P0V
Crucible run of 4:53!
Alternative route, probably will need some skill point shuffling for better stats, with Ultos and Leviathan: https://www.grimtools.com/calc/0V0e6WrZ
Original build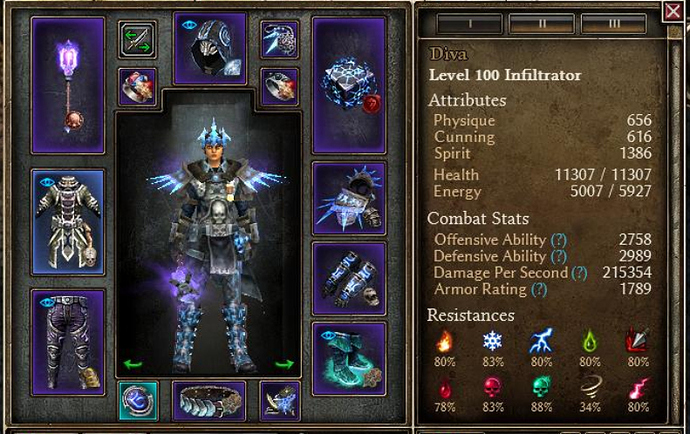 pic with perma buffs only, standing on Inquisitor Seal.
GRIM TOOLS

https://www.grimtools.com/calc/p25dzePN
Gear:
Most of the gear is set in stone - set+off hand for conversion are key. Also important are Bane relic and belt. Boots provide stun and pants slow among other things.
Weapon is Spelldrinker. Since FoI is caster weapon, lack of pure cold weapon base damage isn't problem. Spelldrinker lacks frostburn damage but huge %cold, cast speed, +1 Inquisitor and energy crisis solved. Actually build have enough sustain to never run dry, rarity for FoI build.
How to improve OA? Take Shadow Queen medal. For Crucible Dark Dreams offer so nice mod to Veil of Shadows and OA is provided from buffs, in campaign you can take Shadow Queen medal and shuffle components to increase OA.
Devotions:
I experimented a bit taking Seekers without full conversion and Leviathan. Actually FoI needs strong AoE damage to deal with trash mobs outside of your FoI radius or behind you. Elemental Storm for flat RR and Ghoul as defensive fail safe option.
Performance
Build demands some skill to pilot it. Inquisitor Seal and Nightblade defenses are good enough most of the time but multiple Nemesis and heavy hitters are quite dangerous. Still I personally achieved very high clear rate. Average time is around 6 minutes. Here's perfect mutators video lucky run of 5:30!
In SR I completed with some toughness 75th shard but wouldn't post video or add tag since I don't think it's consistent enough. SR 65 should be easier though.
I tested Mage Hunter version. It's way worse, around 40 seconds slower and not tankier too.