Hey Guys,
I've been playing this build for about 8 months now. It's been one of the very few HC specs in our group to farm high SR reasonably fast while showing good consistency and reliability.
Credits to @sir_spanksalot for all his help polishing the spec!
I'll fill in the blanks here later on today, but for now, here's the build -
GRIMTOOLS https://www.grimtools.com/calc/RZR5W1vV
The rings have been added after 1.1.5.0. Used to have well rolled greens before.
Crucible 100-150 (will add 170 in a bit) - https://www.youtube.com/watch?v=JNLfh-czQ1o&t=1010s
SR 75 - https://www.youtube.com/watch?v=1ij19KGT80Y&feature=youtu.be
I've pushed it all the way to 85 in HC but don't have a video. Will record a new one.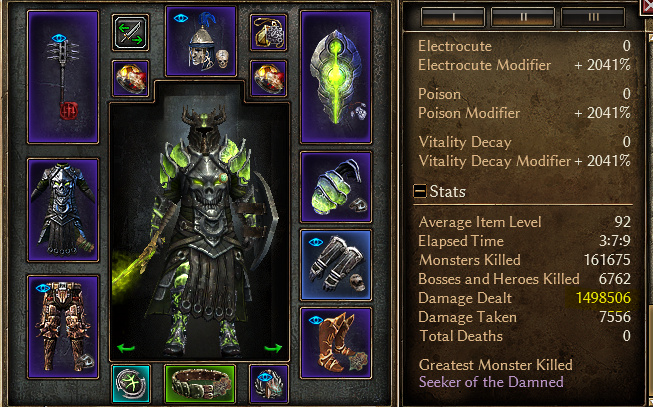 Build overview

To achieve good performance we make use of the Sentinel set and mythical Agony but convert most acid damage to physical with the help of Targo helmet and Ugdenbog's belt (~95% conversion with good rolls). We lose a bit of that conversion thanks to the mace, so try to get one with the lowest phys to acid (13% is the one I'm using). Now that our retal damage is mostly physical, we can mix and match acidic items with good bonuses (set + mace) to maximize the damage output.

Secondly, we get EoR thanks to the mace's 6% RTA added to attack to EoR. This essentially lets us spin for additional 130K DPS and the cherry on top - 18% damage reduction from Soulfire!

Another very strong aspect of this build is that we are using the Honor relic instead of Absolution! Why? Because of its shotgun ability - Vire's Cascade. It can pretty much oneshot bosses and heroes and has a low 3 sec cooldown.

That's about it. The rest of the items and devotions are pretty standard.
To be updated…