Build-Update 1.1.4.1 - 1.1.7.1

Components: exchanged Sanctified Bone in Head/Chest for Prismatic Diamond/Living Armor (nerf of racial bonus)
Components: exchanged one Bloodied Crystal in Ring for Runebound Topaz (more HP/DA for a bit Armor/Bleed Res)
Gear: exchanged prefix "Thunderstruck" in Boots for "Renegade's" crafted with Stun Res (fits better for Resistances [Stun, Pierce, Aether] and frees some spots for other Arguments)
Devotions: skipped Solemn Watcher, Fiend and Spear of Heavens for Hydra, Eye of the Guardian, 7/7 Dying God and Blue Nod Crossroads -> thanks to tqFan (if you wanna go more def -> exchange Eye of the Guardian with Quill and skip Hawk for Ghoul)
Skills: skipped Sigil of Consumption/Destruction (2 Points)
Skills: reduced Curse of Frailty from 7 to 5 (2 Points)
Skills: took Horn of Gandarr (1 Point)
Skills: Bursting Round from 6 to 8 (2 Points)
Skills: Storm Spread from 7 to 8 (1 Point)

There are some item-changes in the patches since 1.1.4.1 like the Stun-Res mentioned before. Every change in numbers are included in the following results.

Result

HP 10.520 -> 11.091
OA 3.149 -> 3.237
DA 3.010 -> 3.131
Armor 2.098 -> 1.966
Stun-Res 61% -> 77%
Physical Res 32% -> 33%
Slow Res 68% -> 80%

The build won from 1.1.4.1 to 1.1.7.1 and with the above mentioned changes.
Salute!
This build was born in this order:
I am a big fan of the Harbinger-Set
Rah'Zin's Torment's benefits (rr + default attack)
Synergies between the Occultist and Inquisitor class in terms of chaos damage, ranged combat and rr
CONCEPT
Touch of Chaos spam with 79% WPS (Bursting Round, Chilling Round, Storm Spread, Burning Void) + double DOOM BOLT via Time Dilation.
Use the heavy burst damage from Doom Bolt to kill Bosses/Nemesis really fast - sometimes with one hit. Average damage in Crucible Gladiator with 3 Buffs and 1 Banner is ~400k, above 1.000k are not rare.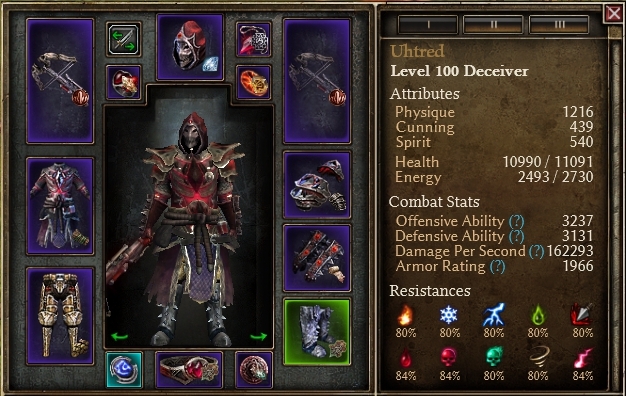 Blood of Dreeg, Word of Renewal, Hungering Void, War Cry, Deadly Aim, The Harbinger, Prismatic Rage
SURVIVABILITY
The Harbinger! Awesome Circuit Breaker in addition to good overcapped primary resistances and good secondary resistances + 3.100 DA/2.000 Armor/Damage Reduction (24% Impaired Aim; 20% Reduction; 230 Flat Absorption; 20% Absorption)

OFFENCE
3.237 OA, up to 3.921% Chaos Modifier and whopping 168 rr (25 Rah'Zin's + 25 Word of Pain + 10 Curse of the Void + 8 Combustion + 10 Ignaffar's Combustion + 35 Eldritch Fire + 20 Harbingers Mark + 35 Doom Bolt)

GEAR
Mandatory:
Head, Hand and Weapon = The Harbinger
Neck, Chest, Shoulder and Waist = Rah'Zin's
Rings = Voidheart/Mythical Combustion Band
Leg = Mythical Demonbone Legplate
Relic = Ignaffar's Combustion
Free:
Boots/Medal = I prefer craftable Stoneplate Greaves and Mythical Black Star of Deceit
DEVOTION
Aeon's Hourglass, Dying God, Kraken, Solael's Witchblade is a must.
Revenant, Hydra is recommended.
Rest is a matter of taste. Take Hawk+Eye of the Guardian as offensive choise or Quill+Ghoul as defensive choise.
VIDEO
Crucible Gladiator 151-170 with 3 Buffs and 1 Banner in 7:42min
Mad Queen in 6s
Kra'vall in 10s
Kubacabra in 17s
Dummy in 16s
Lokarr
I would be grateful for your Feedback!