I missed playing with EoR so I thought I'd have a go at trying to update an old set. It's not exactly an original build as this owes credits to grey-maybe's Acid Dervish and x1x1x1x2's Dunefiend Dervish that it was originally based on. More in the build explanation below.
updated GRIMTOOLS (thanks to grey-maybe's improvements)
(original) grimtools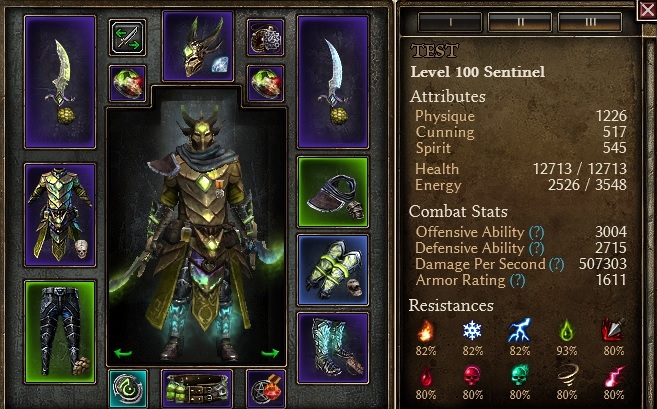 character sheet with all buffs on
Build Explanation

Dervish vs Sentinel - I originally went with Dervish since I hate pressing additional buttons but couldn't get enough res overcaps to make it work without throwing more greens at it. Sentinel works out fine and has better flat damage thanks to conversions.

Gear Choices

Basic Dunefiend set gives us 100% Lightning to Acid conversion which explains getting the boots to get more Soulfire ranks.

Rings and belt gives us 100% Vitality to Acid enables us to squeeze some flat damage out from Second Rite as well as Scales support

Greens are just to fill holes in capping resistances and EoR.

Crafting - Craft helm for slow res

Stats - It basically has 500k sheet dps, capped attack speed, enough OA to hit, low DA, 18% life leech and 40% phys res to survive. grey-maybe explained it well in his build that getting crit on Acid isn't worth it and so we don't bother with OA other than the bare minimum and stack flat damage instead.

Skill Choices - I like streamlined builds with less buttons to press and the fact that you have to interrupt your spin to cast something is a DPS loss anyway so I keep it simple with just EoR and minimum buffs/debuffs. Path of the Three because CDR is one helluva drug and it's the only reason why I bothered with this build at all. I use Amatok's Breath purely for convenience but maybe someone has a better idea for the medal augment. Also, you can take points off Solael's Witchfire if you overcap attack speed and put them somewhere else.

Devotions - Credit here goes to grey-maybe (and some input from tqFan) as it's a near copy of his Acid Dervish setup with Ghoul and Scales and it just works. I've removed the bit saying Tainted Eruption is a dps loss. I just had it bound to Guardian and it works fine so it just additional damage you don't need to worry about.
Gameplay

It plays better than it looks actually, mowing down packs of trash pretty quick as long as you skip Nemesis bosses (if playing SR). The only thing you pay attention to is your Ascension cooldown and circuit breakers (Resilience, Ghoul, Prism). I don't really play Crucible so I can't say how it will go. Giving it more damage and HP sounds good though.
Shattered Realm Performance

I don't record video but here's a screenshot for proof. It's actually my first time going past SR 76 ever and especially with this hot mess so it can be done. It's best to stick to SR 75-76 for easy farming and less headaches though.
So, is it worth it?

Not really unless you really really miss EoR, just to manage expectations. The set still lacks stats. You're pretty fragile for a melee build and need specific rolls on green items plus the pain of farming for Shuroth rings. It should be fine for farming SR 75-76 and below though.