Good evening. Here is a 1.1.9.8 update!
Better AoE/playability with no doombolt: Warlock, Level 100 (GD 1.1.9.8) - Grim Dawn Build Calculator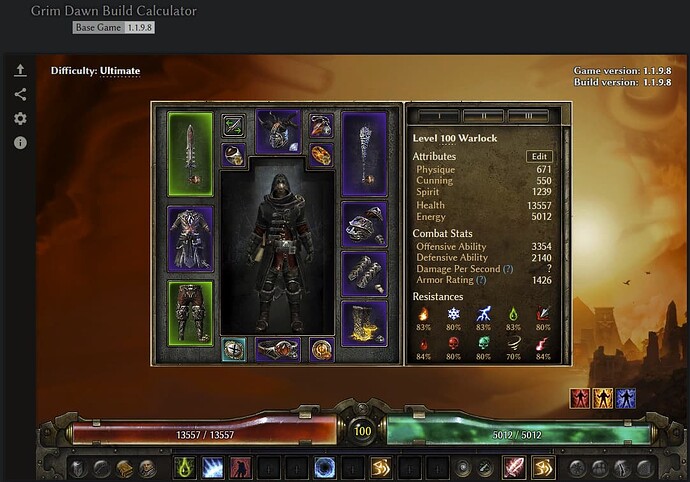 Ravager: 1.1.9.8 Rah'Zin Warlock Ravager (1:20) - YouTube
SR 75-76: 1.1.9.8 Rah'Zin Warlock SR75-76 - YouTube
Better solo damage for Doombolt lovers and people who love more buttons: Warlock, Level 100 (GD 1.1.9.8) - Grim Dawn Build Calculator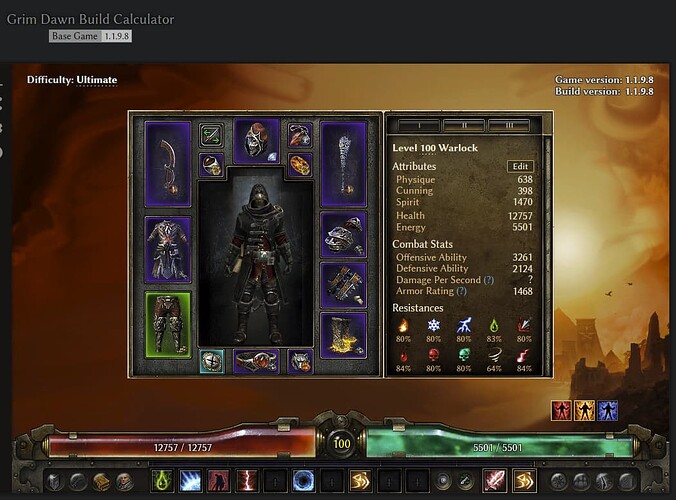 Ravager: 1.1.9.8 Rah'Zin Warlock v2 Ravager (1:10) - YouTube
If it was my choice I'd use build one but you do lose some single target. Survivability is solid for either, don't fear the 13k HP and 21xx DA.
Videos have korvaak's brand in medal but direwolf will be better for general usage and timer is the same on Ravager. Most of the original concept text still holds but that was basically a lifetime ago, so we have more HP now (and less DA) and better damage and leech and still the fun stacking absorb+DR.
Have fun with a meme that disgusted @mad_lee !
Old

What's that Eard, you're dumb and have long suffered with the understanding you need ~2700 DA for SR75-76 to feel safe, constantly fretting on builds that need to go out of their way to reach this mark?Well let's get drunk, spirit dump, and throw up on ourselves with…

2 3 1 0 DA

This is not a full build guide yet as this is still under testing and most likely won't end as a full yolo, but wanted to show some silly results when DA is ignored. Shout outs to @Duchy, @hilly, and @Monceaux for also having similar builds floating around. No idea what Crucible times would be like because @romanN1 and especially @Crittrain hate chaos. Maybe melee extraordinaire @banana_peel has already gone down this road when he was on a Rah'Zin kick.

Quick summary: eHP doesn't get talked about a ton on these forums, but was the stat of note in Eve Online builds (or at least back in 2006 when my old ass played). The usual newbie player trap at the time was to stack HP to the moon while ignoring resists. Grim Dawn doesn't really allow for that level of silliness before teaching the player what's up, but occasionally you can pull out fun things with stacked DR. 20% DR + 22% DR + 20% reduced incoming = was that supposed to be a crit? Ignoring that armor and resist sit in between reduced incoming and our DR, you only take ~49% of incoming damage just from DR, which is great when you don't give a shit what your DA is and you're rocking sub 10k hp. Every bit of leech then also becomes extra valuable.

GT: Warlock, Level 100 (GD 1.1.7.2) - Grim Dawn Build Calculator

In Game:


SR75-76 run with mildly unfavorable mutators (I swear I always pull -HP on this build). My usual disclaimer that I'm not especially good so this isn't a perfect run, but if you show even a mild hint of awareness of things like kill the arcane hero before you take a null bolt to the face or maybe save reaper for second when he's especially resistant to chaos, you can play pretty wild.