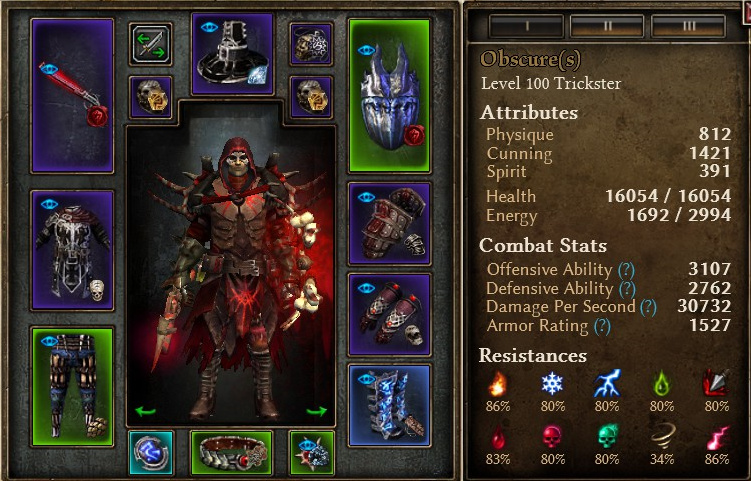 GRIMTOOLS

When you realize that title of Meshuggah's masterpiece won't make much sense here.
Gear explanation

Gear crafted for stun and slow resistance

Full Demonslayer - BiS. Both damage types and skills.
Scarab Shell - an item for bleeding BS. That's it. Pick affix with phys res.
2x Deathlord ring - hence it's hybrid, the choice is limited, so it's the best option we have, given low %CS.
Reaper's Legguards - +3 to BS. BiS. Pick any affixes.
Lagoth'Ak's Bloodbinding - looks hybrid. Need to get at least one "of Buchery" affix for 24/16 PB.
Bloodfury Spaulders - i've always wanted to use these, proc is neat and stats are great, but most vitality/bleeding builds tend to have set shoulders.
Lunal'Valgoth's Girdle - ele to vit conversion. The most important stat.
Valguur's Touch - good stats, useful conversion and strong proc. Absence of %CS is compensated by rings and shoulders.
Shattered Realm performance

SR100 without much sweat:


And SR105 with much sweat:

Crucible performance

4.50 with favourable muts, the average is ~5.05

Celestials

Avatar of Mogdrogen: Ideally one would want to increase stun resistance, but it's still doable.


Ravager of Flesh: Can't facetank red version due to mana leach.


Callagadra: It's an easy yet boring fight, killed it on the 3rd attempt.


Crate of Entertaiment: The easiest crate kill i ever had, i'd recommend farming it with this build.

Pure Bleed Version


GRIMTOOLS


Doesn't make much sense given hybrid version: worse both in terms of defense and offense, but if somebody wants to play pUre bleeding build - here it is.
Credits:
@mad_lee for forcing me to try bleed/vitality hybrid.