INTRODUCTION:
Hello everyone, I know what you are thinking. Why would anyone play physical Devastation/RE Spellbinder? And the answer is…
Why not? I was thinking one time before I fell asleep, how would Corruptian be useable in a build without unrealistic greens with RE bonuses. That's when it hit me. Spellscourge has no weapon slot so it makes sense to use it on a binder. That being said, RE is a filler/secondary damaging skill. Most of the damage comes from Devastation itself:
NOTE: Start leveling with Arcanist up until you unlock Kymon's Chosen ( You might need their augments), then you can spec into Ravenous Earth and level as vitality.
GRIMTOOLS:
Spec with Oleron Devotion: from @AlkamosHater

Crafts for physique/armor
Primary tab with permanent stats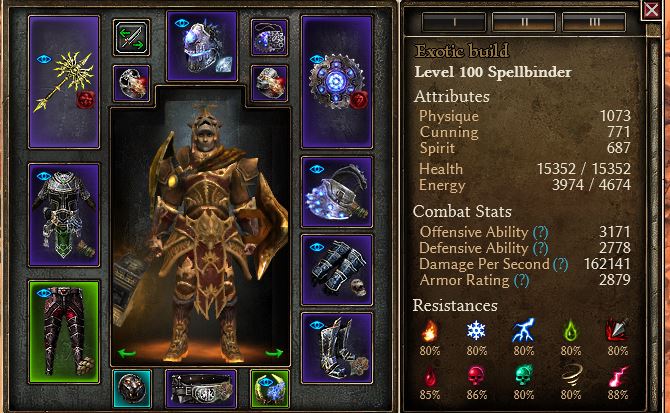 Devastation tooltip with Ulzaad's Decree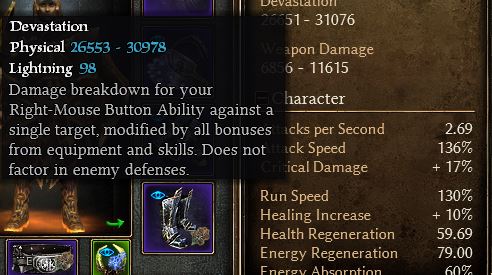 Why these pants? Well, I don't think there are any pants that are BiS for a build like this so I used ones with phys res, huge elemental res and DA. You can put more points into physique for more comfortable Defensive Ability, though I don't think it's needed.
GAMEPLAY:
Charge on your enemies to proc Ulzdad's Decree and then spam Chain Lightning and cast RE/Devastation off of cooldown. Use Mark or Mirror to facetank huge incoming damage.
VIDEOS:
SR 100 Completion

Crate kill ( rather hard fight)

Ravager of Minds kill

Crucible 6:43 run ( with Alkamoshater's Devotion map)
Crucible 7:07 run ( It was to be expected, AoE is not the greatest and neither is single target damage)

SR 80 Bosses

CONCLUSION:
All in all, I didn't expect the build to break any records. I am still surpsised it managed to clear SR 100, but I guess MoT/MoE combo on good old binders can carry even the memest of concepts. I am honestly dissapointed that Physical's RE damage is nowhere near Dark one's+ Soulcatcher or Blightlord's powerhouse. But these things tend to happen when it only has 2 extra points instead of 10.
---
Until next year!!