[1.1.9.6]
Hello all. Decided to update this build for the new patches and focus on collecting physical resistance. As a result, this build began to face super bosses and go deeper into shards. The build has started to live more confidently. The results are in the video below.
GT: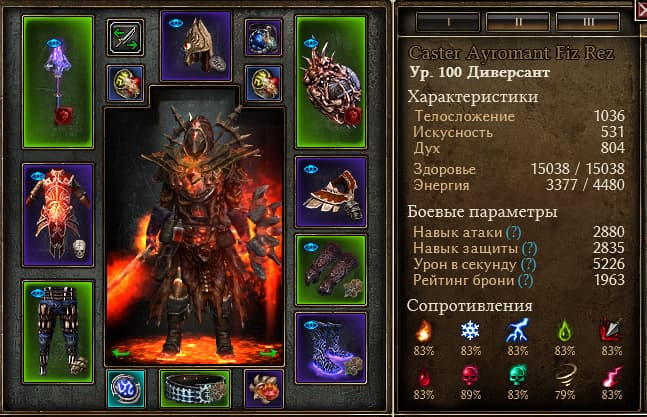 85 SR No deaths, full run.
75-76 full run, full agro.
150-170 crucible extra spawn without buffs and banners
Ravager
Avatar
Crate of Entertainment
Lokarr
Bourbon clones
Mad Queen
[1.1.9.0]
Hello everyone. I would like to share the assembly of the saboteur on the new set of Ember is Calling. I decided to make a caster out of it, taking the damag of their different sources: blade spirits, cocktail, canister bmb and vindictive flame. It turned out to be a working build, very pleasant in the game. Ulzuin is Wrath greatly helps the character survive and is a good aoe damage. The results are shown in the video below.
GT Saboteur, Level 100 (GD 1.1.9.0) - Grim Dawn Build Calculator
150-170 4m 53s
SR 75-76
Avatar:
Lokarr:
Mad queen:
Bourbon Clones: