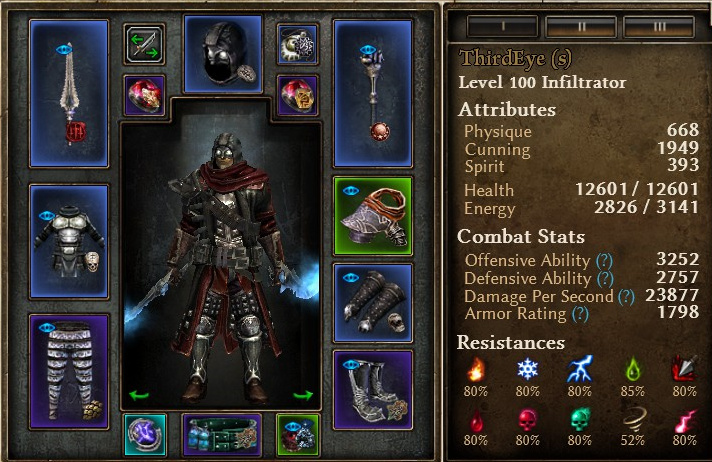 GRIMTOOLS
Pierce is the superior damage type
Gear explanation

Gear crafted for %Slow res (1) and %Stun res (2)

The Unseeing Eye - the core of the build, also happens to be better and more unique than most legendary ones.
2x Orissia Ring - strong proc, %damage to both damage types, good stats. Can be replaced either with Seal of Orissia or Malmouth Blade Seal/Dreeg Blade Seal
Shadow Grasp - BiS.
Pack of Treaherous means - stands for %elemental conversion, BiS.
Chosen Epaulets - same as belt, affixes don't matter much, conversion value is far more important.
Wendigo Eye - neat medal for pierce casters, can be bought from groove's vendor. Can be replaced with Mark of Dark Dreams/Direwolf Crest
Nemesis - turned out to be better than Belgo's Relic. I guess -150 DA shred means a lot.
Windshears&Mageguard Legguards - stats and beef.
Shattered Realm performance

Casual SR90 run, nothing special. Farming SR75-76 was comfortable.

Crucible performance

My best result so far is 4.07, also did 4.09 and 4.12 so hypothetically could be grinded to sub4. Build is quite reliable in terms of timing.

Celestials

For all celestial kills went for different skill point distibution, calcs below the videos.

Avatar of Mogdrogen: Facetank all the way, 3 augments for extra lightning res.


Ravager of Flesh: High DA&DA shreds+30%fumbles+20%dodge doing their job.


Callagadra: Kitting, Blade Barrier helps a lot for dealing damage. Killed it in first try.


Crate of Entertaiment: Not really safe but doable.

Bonus Goredrinker Build

Pierce/Bleed Infil utilising goredrinker set and its only playable part - WoP. Done by @romanN1, tweaks by @mad_lee

Credits
@mad_lee for help with build polishing.
@nofika4u because that 4.09 rimetongue run got me thinking.