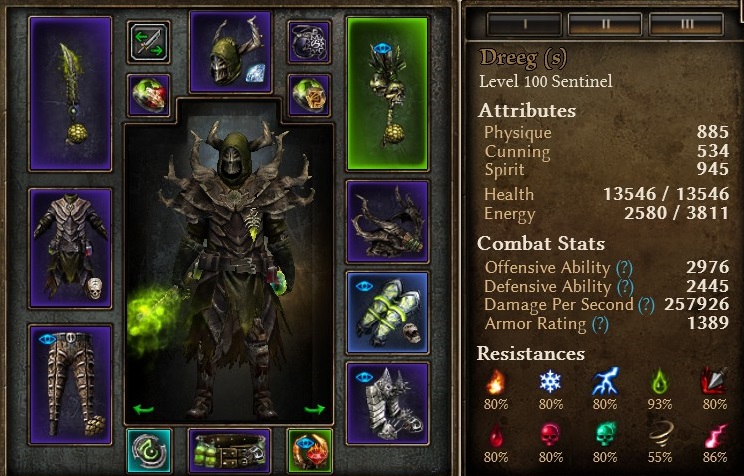 GRIMTOOLS
1.1.9.1 update
Who even needs DA?
Gear explanation

Gear crafted for slow resistance

Deception of Dreeg - best set for DEE (and the only one that works so far)
Groble Toxic Effigy - gives %wd that skill is lacking. I went full damage with afixes and it gives best results. Something with of celerity/ of corrosion will work.
Vilescorn Bracers - best acid gloves overall.
2x Shuroth - the ultimate acid rings.
Pack of deadly means - there're very few acid belts with +to mastery. BiS.
Basilisk Fang - %ADctH to DEE, must needed. Affixes for damage dump.
Venomskin Legwraps - +3 to Blood Burst, health. Can be replaced with Nidalla's Legwraps
Meditation - best acid relic.
Venomspine Greaves - for the sake of %damage.
Shattered Realm performance

SR90:


another one:


and the full run:


beware the reaper in deep SR.
Crucible performance



Explain yourself [Feedback]

– It seems like DEE is actually a pretty strong skill and you've been wrong calling it a lackluster.
Uhm, no, not really. You might have noticed how many times in Gear exp. section I mention "damage".
The thing is - all heavy lifting is done by the bare amount of damage. If you try DEE with normall amount (around 3k% lets say), it will be disappointing.
– … and that's why Dreeg's set has so much of it, devs know about it.
Well, I've been wrong thinking that Dreeg's set is garbage, when in fact, it's actually pretty neat. However, keep in mind that Deception is not the only set, that supports DEE. There's Rotgheist and other occasional MI's that occupy same slots. And their performance is… well. Have you seen non DD DEE build with mid-good performance?
To summarize all that i wanted to say: Dreeg Deception - surprisingly interesting set, the only thing it lacks is DA, but i don't need it on casters, so not a big deal; DEE itself - still being the worst skill in the game, carried by dedicated set in this instance.
If anyone has tried Rotgheist Eye/non set DEE - please leave your feedback anywhere on the forum.

FOR LEVELING GUIDE CLICK HERE