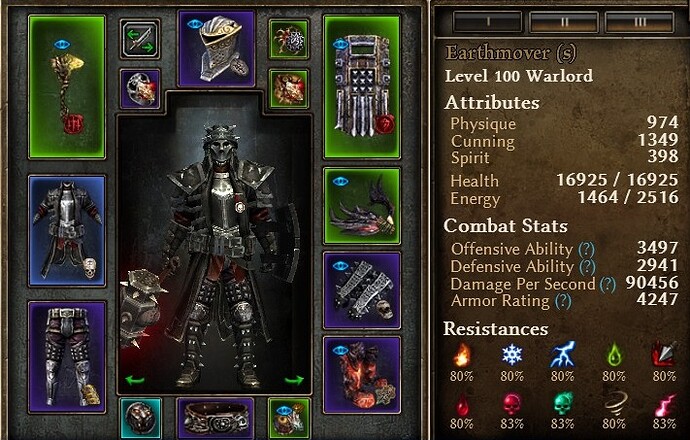 GRIMTOOLS

And when their earthen mouths will open up
And just what words should come out but
Gear explanation

Gear crafted for %Armor

Bloodbriar's Thorn - The key item.
Warden's Fortress - BiS. For damage try finding Supercharged or Chronomancer's prefix. Second best option is just getting +phys res, like on "Durable".
Bargoll's Root - BiS, can be bought in Ancient Groove rogue-like.
Wendigo Glare - Boosts both Blitz and SS, so the best option but not mandatory like the previous ones. The best place to farm is in Barrowholm's Forlorn Cellar.
Deathstalker - BiS. Farmed in Ancient Groove.
Gargoyle Spines - just good due to flexible nature of green item, +3 to blitz and conversion. Can be replaced with Shoulderguards of Justice for even more armor.
Faceguard of Justice - Almost a BiS, Milton Casque with %cdr prefix and of ruin suffix should be better for damage.
Collosal Grasp - BiS for any physical build with a shield.
Chausses of Barbaros - just great, also gives +3 to SS. Can be replaced with a lot of stuff, but i'd not recommend to do so.
Myrmidon Chestguard - BiS due to +skillpoints, regarless of its useful stats.
Reforged Chains of Oleron - the best physical belt overall, can be replaced with some fancy ugdenbog girdle, but are still better for damage.
Ring of the Black Matriarch - BiS for any physical build.
Gargabol's ring - just for stats, build needs above average OA so i took it. Can be replaced with Combustion Band, really close.
Earthshatter Treads - good stats, i even use the proc. Alternative would be either Windshear Greaves for %trap res and proc or simply Dreadnought Footpads for +skills to blitz line.
Shattered Realm performance

SR100
Crucible performance

Buffed Cr in 4.31, can be faster

NakedEX recorded somewhere during the test patch so its a bit outdated but nevertheless.
Celestials

All celestials were killed with the same setup, no augments/skills change required.

Ravager - 100% success rate across like 30+ kills, need those lifesteal potions for the second phase though.
Avatar - just take one +%lightning res potion and you're good.
Crate - requires a bit of kitting here and there.
Callagadra - facetank during first phase, for the second watch for heal rotations.