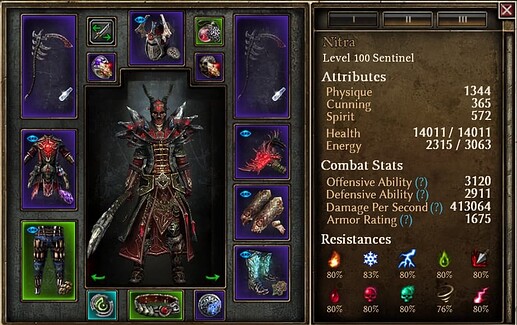 Stats with permabuffs only, DPS for Eye of Reckoning
First of all, I swear to Korvaak I came up with this independently of @fordprefect's 2H Vitality EoR build he posted before me. I had been working on this myself for a while, as I really wanted to make a good build out of the Mythical Death's Reach weapon, but he beat me to the punch. However, this build came with some personal benchmarks for me-- it's my fastest Ravager kill to date, as well as my first Crate kill with a squishy melee character-- so I didn't have the heart to just scrap it all. More to the point, some of my gear and devotion choices are different from his, so I want to talk about those.
Hopefully all that makes it different enough that I am not stepping on toes with this! Or more accurately- spinning on toes, I guess.
Features

Pros


Extremely good damage and leech
Ridiculously fun and simple spin2win playstyle. Spin through every act of the campaign, dungeons, and superbosses
Not that many buttons with cast time to press. After all, you don't want to interrupt your spinning too much

Cons

Relies almost 100% on leech to stay alive. Prone to one-shots from extremely strong enemies
Has rather low attack speed for EoR, but it turns out that barely matters; damage is still top-notch
Gameplay

Debuff with Curse of Frailty and Bloody Pox, your two active RR spells. Ascension is there as a powerup. Then, just spin to win! The Bloodthirster ability from the Haunted Steel component is an excellent circuit breaker, kind of like an extra Ghoul, so keep that on your bar as well.
Gear and Devotions

Note: No craftables in this setup!

Weapon - Build-defining weapon. Basically enables 2H vitality EoR, and gives Bloody Pox its RR.
Chest and Shoulders - I went with 2-piece Rotgheist, because altogether with the belt, these three pieces are guaranteed to give you 100% lightning-to-vit conversion for Soulfire. 2 pieces of Rotgheist also give a 120% vitality damage set bonus.
Helm - I chose the Dark One's Hood for +1 to Occultist as well as partial chaos to vitality conversion, since we have some flat chaos damage from Occultist passives and the Consecrated Wrappings component.
Gloves - They aren't vitality gloves sadly, but Mythical Sandreaver Bracers are a fantastic option here for the attack speed, points to EoR, and flat physical bonus to EoR, which we convert thanks to the weapon.
Belt - +1 to Occultist and important elemental-to-vitality conversion, as mentioned. The Dread Lord's prefix is nice but not necessary.
Pants - Soulfire points. I find it rather funny that Ford and I went for the exact same affixes here, Aggressive/of the Void Harbinger. of the Void Harbinger gives freeze res, which otherwise the build is a bit low on, so it's great to have.
Boots - Also Soulfire points. Stellar boots here with the vitality damage and DA, it's just too bad they don't have phys res.
Necklace - Bolvar's Pendant gives extra RR to the Guardians, very nice. It's subjectively a better option here than say, Mythical Pestilence of Dreeg, which gives +1 to both classes and could also provide RR with the right prefix, because you don't really want yet another button to press with this build.
Rings - Mythical Signet of the Fallen is for vitality RR, used in pretty much all vitality builds. The Mythical Deathlord's Band gives attack speed, more flat damage, and a proc.
Medal - There aren't really many must-have choices here. I chose the Mythical Undying Oath, as a slightly faster heal and more flat damage isn't bad.
Relic - Meditation gives a metric crapton of damage, and raises total speed as well.

Devotions
Devotions are basically the standard vitality setup with Dying God and Rattosh. Kraken is standard for 2H. I chose Revenant as my flat RR devotion for more life leech, and the attack speed node. Also, Bat bound to Eye of Reckoning adds some ludicrous sustain since it will proc continuously from its low cooldown, It's simply amazing here.
Performance

As I mentioned, this is the fastest Ravager kill so far that I've achieved with a build I that made, so I'm pretty happy with that. I also technically climbed SR all the way to 100, and even killed some bosses in the end room (Shattered Outcast and Valdaran) but any physical hitters just hit too hard. Not too surprising.

SR 95 Boss Room

One death to Shattered Outcast at the beginning. She died RIGHT as an aether meteor shower hit me, so nothing to leech from anymore lol

Crate of Entertainment

This took a few tries, would not really recommend using an EoR build to kill Crate

Ravager of Minds

Mogdrogen
Again, requisite shoutout to Ford for also building on the same concept. I recommend you go and check out his version of the build as well.
I think at the very least, it's safe to say that 2H vitality EoR is alive and well now, lol