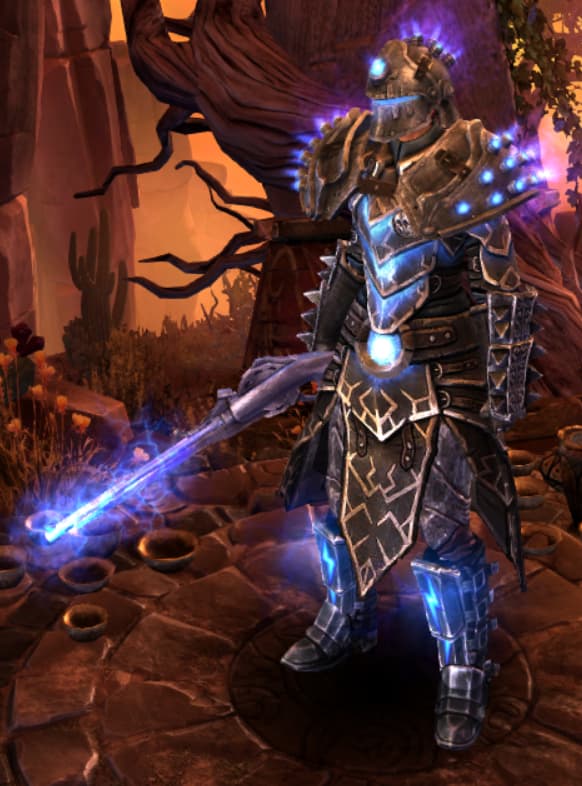 Equipped with power armour and a storm cannon, Tempest brings wide-reaching AOE lightning and electrocute damage across the battlefield. She has a number of powerful failsafes and shields to keep her very calm in the face of huge adversity.
This build is specifically designed to be used in conjunction with the other Death Squad builds but can also function well as a solo build.
Solo Perks of Note:
Incredibly stable playstyle: With a regen of over 4k, 15% lifesteal, 23% + 168 damage absorption, Wendigo Totem and Mirror of Eroectes as a panic button, this build can comfortable withstand the storms of battle.

Piercing Primal Strike: 50% chance of passing through enemies on an AOE-inflicting ranged attack makes for massive, widespread damage. A single shot can echo through an enemy squad obliterating them all. This also plays nicely with lifesteal from each shot when fighting against crowds.
Squad Goalz
Where this build sits in comparison to the other Death Squad builds:
Tempest brings the most OA % and Crit Damage buffs to the team, while also bringing mild regen bonuses, lifesteal, and a decent HP buff.
Offensive Buffs:
OA: 12% + 181
Crit Damage: +29%
Defensive Buffs:
Health: 26%
Flat DA: 70
Regen: +33% + 76
Lifesteal: +6%
Healing Ability:
Wendigo Totem