Compost Yard Suggestion
Hello there. I'd like to present a few thoughts or suggestions on the Compost Yard.
Work Radius
I'd like to see the Compost Yard get a work radius–I feel that the Compost Yard fills under the harvest type buildings, like the Forager and Work Camp, and they all have work radius areas.
In my current session I spent a year following one a villager named Calla, my nightsoil woman, travelling for months to get one pile of poo from a house half way across the map. It just seems like needless timewasting, especially when you have multiple little villages on a map or multiple Compost Yards set up spread around the villages.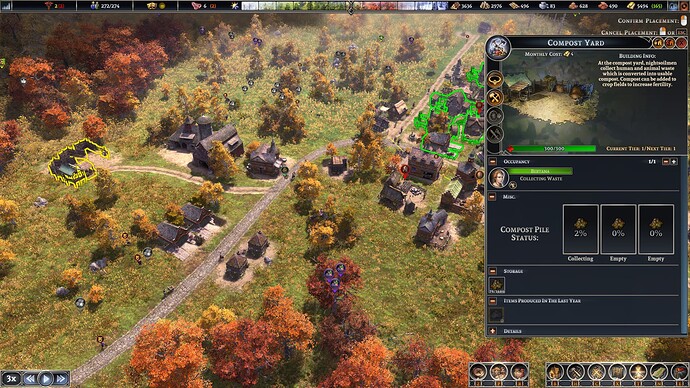 I used a small radius for the example above, but it could be larger or follow the Theater mechanic where it can only service X amount of houses within it's radius.
Improve Nightsoil Collector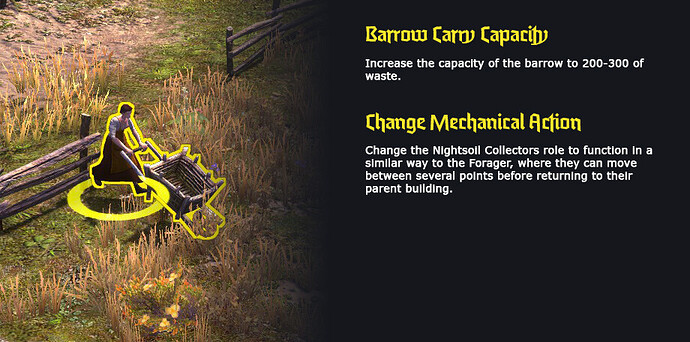 Increase the carry capacity of the Collector's barrow as well as the collection function, so they can travel between several buildings before either having to return due to being unable to carry more or another job–restocking etc–is required.
Waste from Spoilage
When food spoils–whether in a house, Root Cellar or other storage–that building produces a little bit of a waste that the Compost Yard can take away.
As far as I can tell now, when food stuff spoils it just disappears and you don't have to handle it–I may be wrong about that, but I haven't noticed spoilage result in waste. I'd like to see spoilage become a thing you need to handle. If you leave waste/spoilage in things like Root Cellars too long, it could increase the amount of rodents or diseases that spring up in the area.
Boosting Environment Fertility Factor
Currently compost it used to help boost the fertility of farms, shown by the fertility bar in the Yield Factors for crops section of it's UI.
When compost isn't needed to help boost the specific fertility factor of farms, my suggestion would be to be able to have the Compost Yard have the ability to 'spread' compost on the ground in a selectable area, allowing this to boost the Environmental Fertility Factor. This might help boost yields from the arborist, as you'll be able to boost soil fertility to max, and if environmental fertility applies to the bushes/greens max yields, that might help get the maximum out of yields coming from Foragers.