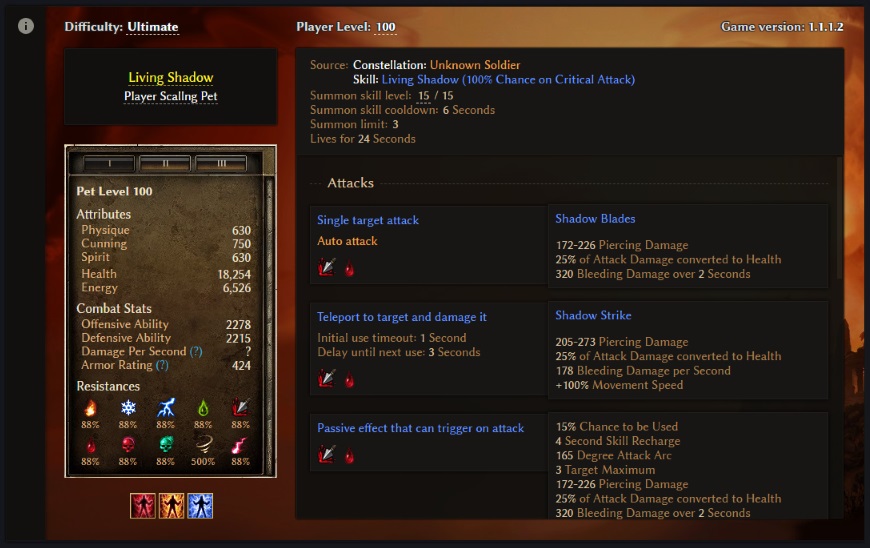 ---
If you want you can support me via Patreon or Buy Me a Coffee.
You can join my discord server to discuss Grim Tools, leave feedback and bug reports.
---
I've been asked a lot by fellow players who prefer pet playstyle to provide a way to view all pet stats and skills, so I finially ended up implementing a pet database.
Here's the list of features available in the database:
You are able to view the list of all pets that are present in vanilla game as well as all of its current expansions.
The list of pets can be filtered and sorted by pet name, its type (player scaling, regular or cosmetic) and source (equipment, mastery or devotion).
On the pet page you can see how it can be obtained, showing summon skill cooldown and level, summon limit and whether it's a permanent pet or lives only for a certain amount of time.
In general pet page looks rather similar to the ones you can find in monster db.
Pet level is controller by certain number of factors, all of which can be changed: player level, difficulty and spawn skill level. By default pets are shown at max difficulty, player level and skill level.
Pet level can not be changed, because it's calculated based on player level, so you should change player level instead.
You can change spawn skill level for pets that are obtained from masteries and devotion, however you can't do that directly for pets obtained from equipment because spawn skill level is derived from the item, so you should select the item instead.
List of known issues / not implemented stuff:
Attack speed is incorrect, this is gonna be fixed soon.

Pets from transmuters (currently these are Corrupted Totem, Unstable Anomaly and Scion of Dreeg) are not in the database yet, but will be added shortly.
Pet modifiers from masteries are not shown in the database yet, but will be added in future.
Only the first set of pets from each skill is shown in db. This affects only Raise Skeletons skill, which has several types of pets. I will have to do some tweaking to make it work.
This tool is built automatically from game resources.
---
If you are interested in translating the tool, please refer to this thread.