Yeah, Zantai isn't buffing retal DE anytime soon. Also, isn't retal DE Oppressor still good as well? i recall a thread showing good times with it.
Buff Retal Drain Essence DK 2021!!!
Buffing retaliation is a big nono at this point. We have already seen how broken it has been since FG release. Would prefer if other skills/archetypes get more love instead ( looking at you DEE and Kalastor) rune).
Do not compare builds on sheet DPS though. Surely you are aware that a lot of monsters don't have high phys res, if any at all? Vitality, on the other hand, is one of most resisted damage types.
I don't know shit about retal DE though, I would rather play pierce AAR Sorc.
In my opinion in terms of all-round (damage/survivality/ability to kill celestials/comfort) DE DK is currently most broken build (with stoneguard warlord) so as far as I know a lot of nerfs are incoming.
Build linked above works not because of greens (ofc it makes it faster but not as much as people think) but because of conversions, high oa, honor relic and aoe. Change boots on anything with retal, shoulders on something with ele-phys conversions and it's going to be able to clear whole content still, only shield is demanding.
It was not, retals do not need DA until you delve over sr110. Block/physical resistances/life leech/armor/resistances are enough, you absorb most of the damage. If on some video it had high death rate it could be because of one save file where I test all my retal builds since ages.
Before the DE rata nerfs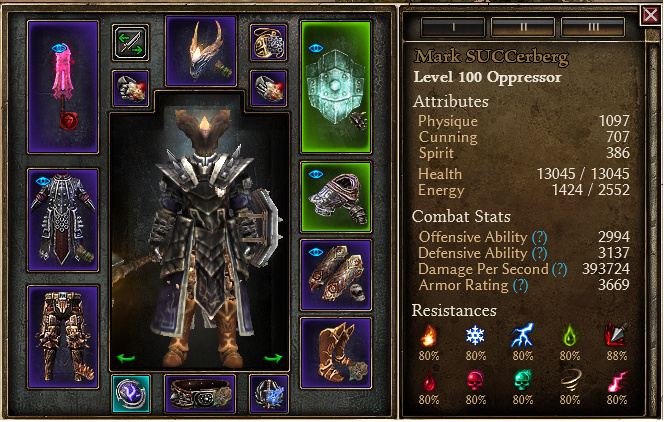 no, not using SR shattered souls
from [1.1.8.1] THE Z U C C - Phys Retal DE Oppressor - (ALMOST) EVERYTHING+
That wasn't even it's final form. That was before I learned conversion afftected retal. And it was already a monster. Imagine if I was able to optimize it with current retal knowledge before it was nerfed. In beta, valinov achieved like 1.5m sheet dps.
too bad my I lost my screenshot from pre FG testing phase where I had 1.3 million dps rta DE lol
immortal build with 1,3M sheet dps. Why can't we have some fun Zantai?
Pretty sure it was in my thread. Lemme dig
Nah image hosting service made it unavailable.
You complained about AlkamosHater having impossible greens and yet here you showed something even more crazy

I think balancing should not be made with GD-stashers in consideration. I use the conversion on those shoulders for some other builds btw.
I still would like to se a reasonable and "legit" rata DK performance.
Do we really want retal DE to be the same bland shit as the other retals? If you wanna just stand around take hits and do nothing while not worrying about dying play witchblade or warlord. If you enjoy playing like a piano caster while still being retal then play sentinel. If you wanna be an arsonist play commando. If you wanna suck the life out of ravager and enjoy having your life going up and down (and honestly it's still waaaaaaaaaaaay tankier than most nonretal builds) then play retal DE.
Imo Honor relic is most broken retal items damage-wise. It works great on warlords too. Although for Witchblade/Sentinel with Fevered rage Absolution happened to be better from my tests.
I was testing conversion vs retal values and conversion wins. You could still take Targo or Spellscourge.
From my tests if you don't really want to push veeeery high SR DA is not that needed because you negate these crits with other defenses. Monsters scales with shards going up and their crit damage is not high in 75-76 range, and up to 100+ you can 1vs1 or 1vs2 them. Otherwise easiest trick is just taking absolution, more Formidable prefixes on rares, some defensive components of jewelery and more physique dump to have like 3k OA/3k+ DA. Like this build passed sr135: https://www.grimtools.com/calc/D2pB68yZ
I guess retals after nerfs still will be very tanky due to itemization and devotion routes, it's just natural for them. Zantai do nerfs mostly based on Crucible performance so we can expect some damage nerfs. I am not good at math but for nerfs I would do something with Honor relic and maybe some slight values on items and devotions. And Counter strike?