Build Intro:
Death and Decay onto the forces that wrought destruction throughout the lands. The Crimson Death unleashes a hail of entropic fury in her path, snuffing out even the sturdiest of opposition who have fallen victim to her litany of vile curses. The stranglers are left with only with their final breath to ponder the folly of a brazen assault, as their mangled & bloodied corpses eventually go limp atop a sea of jagged bone spires that had suddenly burst forth violently from underneath the battlefield. Just as they took everything you held dear, Your fire will become what they would fear.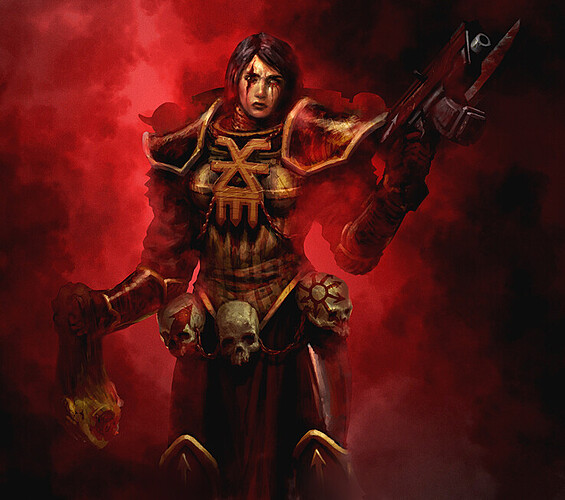 Source:
Sister of Slaughter - Art by SirHanselot - 40K Gallery
---
Pros & Cons

PROS

Consistently high Single Target and Area Damage
High Mobility
High sustainability due to life steal (More than 25%)
Many methods to Achieve Resist Reduction
Has limited tanking potential (Life Steal + Mark of Torment)
Easy Skill Management/Rotation
No energy issues

CONS

Items are time consuming to farm
Very average health pool and Defense Ability
Offensive Ability could be better
Uses 'Dying God' constellation (It is currently the only constellation with a noticeable drawback)
Susceptible to Damage over Time effects (Poison & Vitality Decay in particular) as the 'Hungering Void' celestial power negates most of the character's health regen from 'Blood of Dreeg'. ALWAYS have spare healing potions to negate this, or risk death.
Playstyle can be somewhat more reckless and aggressive than most range classes, since the build depends on life steal to top up hit points.
Needs to sacrifice one item slot to enable dual wielding (Small drawback, but annoying nonetheless)
---
Leveling

Four Important things to note before reading on:

This guide assumes that this is not your first character (If it is, then please refer to this link instead: Beginner build guides Compendium (for AoM + FG expansions))

You should have some Potions of Clarity inside your shared stash

You have at least completed the campaign on ultimate once or multiple times (Preferably)

You already have farmed up every single gear for this build in advance

Both links below are ideal for leveling up this character to lvl 94 and hardcore viable. The first focuses on the Ravenous earth skill and the second uses pets:

[1.1.1.2-1.1.6.2] Beginner's vitality Ravenous Earth Oppressor with leveling guide

The Carnival - A Guide to Pets

Once level 94 is achieved, reset your skills/ attributes / devotions as needed and follow the rest of this guide.
---
Constellations

Green Crossroads
Bat (Bind 'Twing Fangs' to Soul of Nazaran)
Spider
Vulture
Yellow Crossroads
Crane
Rattosh, The Veilwarden (Bind 'Will of Rattosh' to Curse of Frailty)
Blue Crossroads
Lizard
Sailor's Guide
Wendigo (Bind 'Wendigo's Mark' to Bone Harvest)
Gallows
Dying God (6 Nodes only, Bind 'Hungering Void' to Reaping Strike)
Eel

Why bind 'Hungering Void' to a Weapon Pool Skill (WPS) like Reaping Strike: The short explanation is that you want Hungering Void to proc when you need it, but not as often as possible.

It bears repeating again that Hungering Void negates most of your health regeneration, meaning that Damage over time effects hurts this build A LOT especially on Ultimate.

Binding it to reaping strike means that Hungering Void will trigger less during short fights, and repurposes it as a celestial power that is more likely to kick in when a giant mob is attacking or while your character is fighting multiple heroics/a boss type monster.

Since each attack the character makes has life steal, health can easily be topped up as long as there is something to shoot at ; but not so much when everyone else is dead. Any DoTs inflicted upon your character is outhealed with each successful hit on an enemy, but health will start to drain if the duration of the negative effect continues to last after the battle while Hungering Void is active.

Proper usage of healing tonics or royal jelly / Ugdenbloom consumables whenever needed is enough to counteract this flaw, so keep this in mind while playing.
---
Build

Cabalist, Level 100 (GD 1.1.9.5) - Grim Dawn Build Calculator : Build 1 (Original concept build)
Attribute points- Physique /77** Cunning** /30 Spirit /0

Cabalist, Level 100 (GD 1.1.9.6) - Grim Dawn Build Calculator : Build 2 (The build that was discussed in the comments. Has a more straightforward and simpler playstyle, with increased damage output. However, good luck hunting for the appropriate MI items with the desired prefixes/suffixes; It'll take forever.
Attribute points- Physique /60** Cunning** /47 Spirit /0

-Gear Breakdown-

Head: Blood Knight's Visage

Amulet: Blood Knight's Pendant

Ring 1: Mythical Signet of the Fallen (Chance for -15% Vitality RR. + Attack Speed, +Vitality Damage)

Ring 2: Voidheart (Chance for -10% Vitality & Chaos RR, Fire to Chaos Damage Conversion, +Vitality Damage)

ALTERNATIVE: Mythical Cursebearer (Chance for -10% Vitality RR, +2 to Vulnerability / Spectral Wrath, +Vitality Damage)

Weapon 1: Corruption of Gargabol (Fire to Vitality Damage Conversion, +1 to Necromancer, + Attack Speed, Aether to Vitality Damage Conversion for harbinger of Souls, +Vitality Damage, Chance for basic attacks to Pass through enemies)

Weapon 2: Corruption of Gargabol (Fire to Vitality Damage Conversion, +1 to Necromancer, + Attack Speed, Aether to Vitality Damage Conversion for harbinger of Souls, +Vitality Damage, Chance for basic attacks to Pass through enemies)

Chest: Blood Knight's Armor

Shoulder: Blood Knight's Scrolls

Pants: Mythical Wraithborne Legwraps (+2 Spectral Wrath, +Vitality Damage)

Gloves: Morgoneth's Grip (+ADCTH, +Vitality Damage)

ALTERNATIVE: Valguur's Touch (+Vitality Damage, Chaos to Vitality Damage Conversion, +2 Spectral Wrath)

Boots: Mythical Rift-Torn Greaves (+Vitality Damage, +2 Bone Harvest)

Belt: Mythical Girdle of Stolen Dreams (+Vitality Damage, +1 to Occultist skills, +1 to Vulnerability, +2 Bone Harvest)

Medal: Mythical Pyroclasm Mark (Mostly to enable Dual Wielding, Fire Damage can be converted to additional Vitality Damage, +Attack Speed)

Relic: Eldritch Pact (+Vitality damage, Improved Health Regeneration, +1 to Occultist Skills)
---
Final Words:
This was my attempt at a Vitality damage build, but ranged. While it is common knowledge that most would pick the cabalist to maximize their vitality damage or to add valuable resist reduction into their attacks, very few would consider the possibility of a ranged cabalist.
As I learned more about items, it somehow occurred to me that the thought of a dual wielding cabalist would be a fun idea to entertain. The results were better than I had hoped for and justified the amount of time spent in terms of item farming.
While I haven't tested it in Crucible and Shattered Realms, this build was an absolute 'S' rank in terms of campaign performance- Completing the entirety of Ultimate Hardcore felt somewhat easier than actually leveling the character, which should make a strong enough point by itself. A Majority of monster Totems were also decimated in record time on sight so it would be ideal for intensive farming.
But despite the build's high sustainability, its overall health is not all that generous so take advantage of your character's high mobility to navigate out of harm's ways. Apart from that, avoid particularly dangerous zones (Tomb of the Heretic, as a good example) and leave any farming work in high risk areas to your tankier characters while playing on Hardcore.