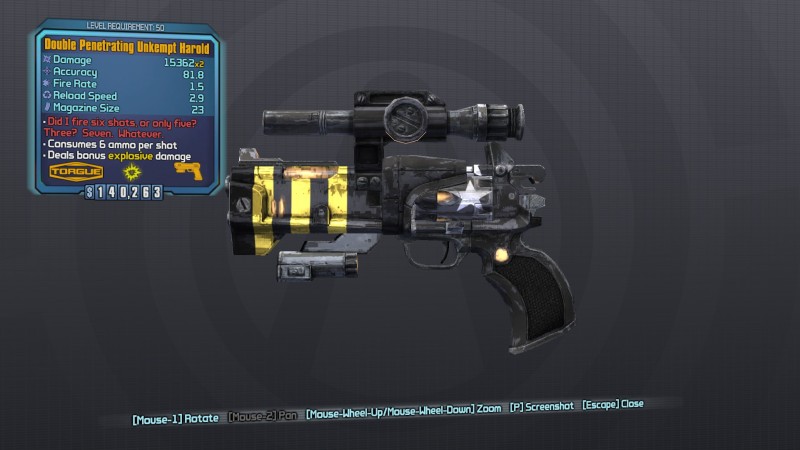 One of the strongest guns in Borderlands 2, right here in GD!
DOUBLE PENETRATING UNKEMPT HAROLD

couldn't find a good DPUH gif, so here's an older game
I thought of a concept that maximizes the "spreadshot" WPS of a ranged build cause that's fun, isn't it? As of now, we got three of these that a Purifier can use: Storm Spread, Stun Blast (Stronghold set 3 pc. bonus) and Lucky Shot (Jaxxon ring). Maximizing all three gives us 69% chance of a spread shot. And since all three of these WPS shoot double the listed projectiles, this really fits what the DPUH does in Borderlands 2.
Build isn't as OP as the DPUH is in BL2, but it does the job well. It's a Purifier, after all. 9 mins 151-170 with 4 buffs and Vanguard Banner. Pretty good considering this build LAGS SO MUCH. You spit out 8 projectiles 69% of the time which prodeces 6-8 Brimstone projectiles each. Add meteors to that then you get a very laggy build. In better systems I'm pretty sure this can do 8 mins.
GRIMTOOLS - https://www.grimtools.com/calc/m23PRLjV
VIDEO (around 9:30 clear): https://youtu.be/lGbRoOgauxA

char sheet with all permanent buffs and Word of Renewal
Skill distribution for this build is pretty much straightforward. The only real choice is to whether to get Bursting Round over Chilling Rounds. Chose Bursting BECAUSE TORGUE WANTS MORE EXPLOSIONSfor more AOE and a bit less lag. Devotions were just focused on getting both Meteors and Dying God.
Itemization is also simple. Justicar armor because fire. Stronghold and Jaxxon are build arounds, so these are must haves. Amulet is chosen for attack speed. AS can reach up to 198% on my rolls with Hungering Void and Justicar proc on. Shard of the eternal flame can be used too for better auto attacks but less AS. Pants for slow res, but Arcane Harmony is also good for disruption if you hate that. Boots for stun res, medal for brimstone.
Will upload video if I get a recording with a better resolution. Used Win10 recorder for the first time and got a 240p recording cause I didn't change settings. :rolleyes:
Closing:
Credits to Superfluff for the first Aegis build I've seen and to all others who posted similar builds which became the inspiration for this (this is literally standard stronghold with different rings lol). Thanks for reading!