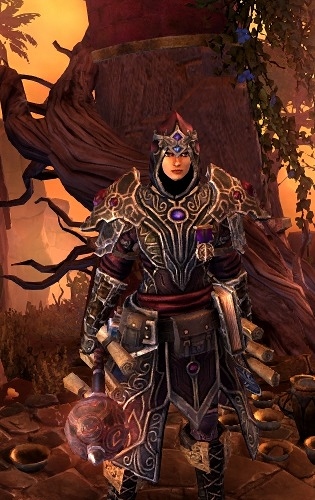 29th July 2019
Update 1: Thanks to
@mad_lee
, Minor update by changing the belt to phantom thread Girdle, cutting cruci clear by 30sec.
The Build


https://www.grimtools.com/calc/4NODm5Y2
With all permanent buff + Word of Renewal, Deadly Aim, and sitting on Inquisitor Seal.
DPS shown is not important.
Build Feature

Upside:

Fucking insane cruci clear speed
Resilient caster
Full spellcaster gameplay

Downside:

TSS damage is massive, but feels clunky
Doesn't work if you are below an arch
Build Overview

People is hyped around the freshly buffed Trozan and here I am trying to make the new Iskandra work.

So yeah, this is a Trozan Sky Shard build made with the redesigned Iskandra set. The set provide a massive +%elemental damage, almost fully converting aether to elemental, and give massive damage to TSS. However, TSS cannot work by itself because it's a CD based skill, thus need additional skill and proc to accompanying them. This build solved that problem with a lot of short CD damaging proc from item and devo.

To make all of them proc consistently, we utilize storm box + lightning tether, also word of pain for proc machine. Both of this proccing item and devo massively. Giving massive AoE and clearing trash fast. TSS nuke is used for single target damage and small AoE.

On defense, we have prismatic diamond proc, decent wraithwalker proc, flat absorb from Inquisitor seal + Phoenix Fire, censure reduced damage, Mirror of Ereoctes for panic button, and nullification. Use nullification generously for both offense and defense.
Equipment Choices

Try to get maximum CDR, maximum Aether>Elemental conversion, and Craft equipment at Kaylon for stun res. Aim for at least additional 10% for each piece.

Core Items:
Iskandra's Unification Set:
Main Hand: Mythical Trozan's Starkeeper. [BiS for any TSS build]
Rings: 2x Mythical Reign of Ice and Fire. [Very damaging proc which also leech. With storm box, it will create a whirlpool.]
Gloves: Cindertouch. [No proc build can exist without this item. (except maybe bonemonger)]
Relic: Ignaffar's Combustion. [Mage hunter need RR. Get +Aura of censure for completion bonus]

Supporting Items:
Pants: Mythical Eastern Legguards. [Relevant +skills and good stats overall.]
Boots: Mythical Wraithwalkers. [This slot is flexible, I use it to cover for stun res. Use whatever you like]
Belt: Mythical Phantom-Thread Girdle. [Full offensive arcanist belt giving monstrous OA]
Medal: Luminari Commendation. [I just want to have more + to inquisitor seal, also DA.]
Movement Rune: Use whatever you like. I use rune of Ultos' Arrival at the moment.
Devotions

A weird Devo I tested, mixed elemental damage based

Aetherfire > to Storm Box of Elgoloth
Elemental Seeker > to Word of Pain
Arcane Bomb > to Aether Corruption
Phoenix Fire > to Trozan's Sky Shard
Elemental Storm > to Inquisitor Seal
Giant's Blood > to Arcane Will
Ghoulish Hunger> to Whatever permanent buff
Gameplay

Keybind:
LMB: Point to Move
RMB: Inquisitor Seal
Mouse Scroll Up: Word of Pain
Mouse Scrool Down: Aether Corruption
Middle Mouse Button: Nullification
Keyboard 1: Movement Rune
Keyboard 2: Trozan's Sky Shard
Keyboard 3: Storm Box of Elgoloth
Keyboard 4: Mirror of Ereoctes
Keyboard 5: Word of Renewal

Standard procedure:
Cast Word of renewal, ensure it to be always active or save it for heal
Scroll Up to summon continuous elemental seeker orb
Scroll Down to Spread Arcane bomb
Movement rune in/out.
Cast inquisitor seal below you.
Hold TSS button while casting storm box to multiple enemies.
Rinse and repeat while always holding TSS button

Ensure enemies to always hit by WoP and Aether corruption
Use Nullification generously for offense and defense, particulary for shielded enemy, clustered heroes, madqueen red aura, any hero mage, and nemesis.

Cast Mirror of Ereoctes when you are surrounded by multiple nemesis.
Build Performance

Crucible:
Update 1. For 170 Crucible, video with 4 buff without banner:


6:10 clear time. Yes, this is a NO BANNER run.

Old video with arcanoweave cord belt, still without banner:

https://youtu.be/Jm1EL0fVNPk
6:40 clear time.

Should be even faster if you meet no korvaak and zantarin.

Shattered Realm:
Will be check later, but I think it should be good.
This is one of the best build I made. Enjoy the new Iskandra!
Trozan's skybreach??? What is that??