The Ancient Guardian protecting the body of the holy Infiltrator!
Introduction
So decided to do cold Infiltrator, but instead of doing the classical Deathmarked build, decided to go with SR set. The problem with it, I lack flat cold and also mods to WPS skills. So decided to go with unrealistic Chillstrifes to give me the much needed damage, while SR set grants fortitude.
Credit for the initial idea to @ya1 who theorycrafted different version with Chillhearts and to @sir_spanksalot who showed me the fun of naked Crucible runs.
Update for 1.1.8.0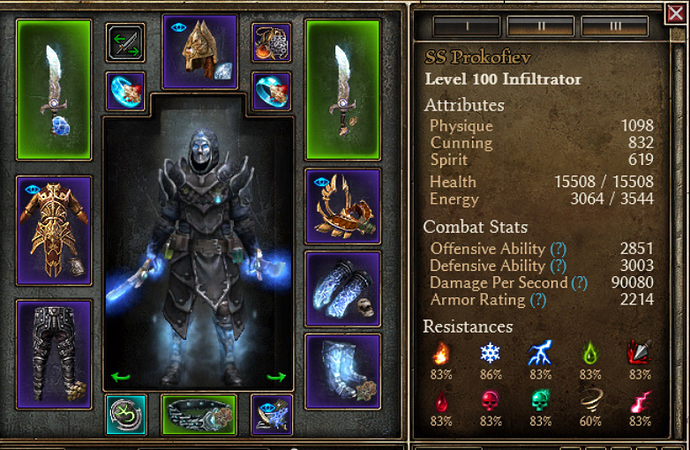 pic with permanent buffs and Lethal Assault, DPS for Beronath
GRIM TOOLS- https://www.grimtools.com/calc/YZem1KvZ
Build is even stronger now, with Nightblade belt converting vitality to cold, which allowed me to take unique devotion map for cold build featuring Scales, Rattosh but also Phoenix. Also Serenity, cause who doesn't want extra defense

Video SR 85+bonus Ravager kill with no consumables:

Video naked Crucible run of 7:12
Build
GRIM TOOLS- https://www.grimtools.com/calc/pZrOOx6N
Gear:
Other than SR set and Chillstrifes I select gloves and pants to cap Lethal Assault, even with nerfs to it, it's quite the potent damage buff source. One can have even better damage with some conversion, but SR set occupies the shoulder slot, so no Silver Sentinel.
Jewels are rally no brainier-dual Alkamos purple rings(you can use blue too) also Undying oath for flat cold. Relic is Nidalla, to empower further the Nightblade + skills. Boots are here to cap my slow resistance, also some physical res.
Devotions:
My favorite cold route with Amatok+Ultos+Dying God. Also since Chillstrifes are daggers, you can use Lantern for extra stat boost.
SR
I managed to reach SR 84 in my sole attempt. Have the absolute bad luck of having one at least from the: Kaisan, Grava and Slathasar in each boss chunk. That makes my idea for recording so difficult
Anyway up until SR 80 there's basically no unbeateable combo, unless you somehow find Kaisan, Grava and Slathasar/Gargabol/Annie all in same wave.
Video from full SR 75 clear with NO consumables or cluster-https://www.youtube.com/watch?v=6Fvj7bGwRU8&t=7s
Video from SR 78 boss chunk only, again NO consumables-https://www.youtube.com/watch?v=5fEXCkMKl7s&t=4s
Crucible
Build is virtually unkillable in buffed Crucible. You can play full kamikaze with no fear. Times are nice too, slightly over 6 minutes at best and around 6.25 at average. But I wanted more, so naked Crucible spanking, here I comes!
I tried 4 runs naked, died in 170 first and completed the next three. So look at this video of naked 150-170 8:14: with NO consumables and clusters except aetherward oil.