Introduction
I wanted to make an aether build and I really liked the look of Temporal Arcblade and the results were a lot better than expected. Almost full elemental conversion and 50%+ vitality conversion lead to some pretty chunky hits.
Details
Melee version: https://www.grimtools.com/calc/RVvLQ4pN
Caster version courtesy of @sir_spanksalot: https://www.grimtools.com/calc/xZy9l30Z
The Melee version is about 15 seconds slower than the caster version. It's still very strong and has more leech so it isn't a straight downgrade. Another viable option is stormfire over chain lightning. It's 5-10 seconds slower so just use whichever you like more.
Try to highroll the conversion pieces to be at or near 90% elemental conversion. If you can't then you can use the diviner chest to get 100% conversion at the cost of 1 to all skills. The belt is necessary but you can use other affixes. Just try to get over 50% conversion with some relevant resists.
Devotions are pretty standard for aether with kraken thrown in of course.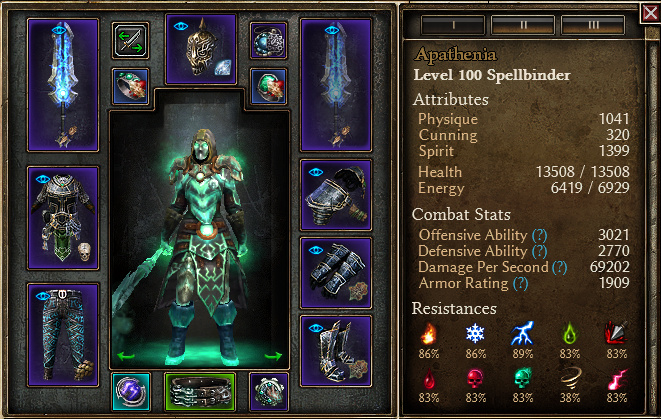 Character sheet with permanent buffs.
Performance
I couldn't quite get under the 5 minute mark but it's definitely possible. Average time is 5:15 to 5:30.
This was a pretty lucky melee run that was 20 seconds faster than my previous attempts. Average time is 5:30-5:45.
Video of SR80 with two stupid avoidable deaths. Again it's pretty safe and consistent overall as long as you can pull one or maybe two bosses at a time.
Feedback
The build is overperforming, mostly because of the weapon. The proc is super strong, so that might be a good way to nerf it, maybe some cdr or speed.