Hello guys! This will be a bit of an unusual build post cause it contains two extra build i didn't want to make a separate thread of and some insight (at least it was for me) about the state of melee lightning in GD.
Introduction:
The build is a result of a long struggle to make dual Stormhearts work on top tier level. The problem i had is i tunnel visioned into Elementalist - a class with double RR, double lightning focus and seemingly better autoattack. Everything looked so good on paper but did not quite come together - and that is a part where i'll have a small riddle for you guys if you are interested. I'm not quite sure i solved it myself correctly but i think i have a couple of good guesses.
The build: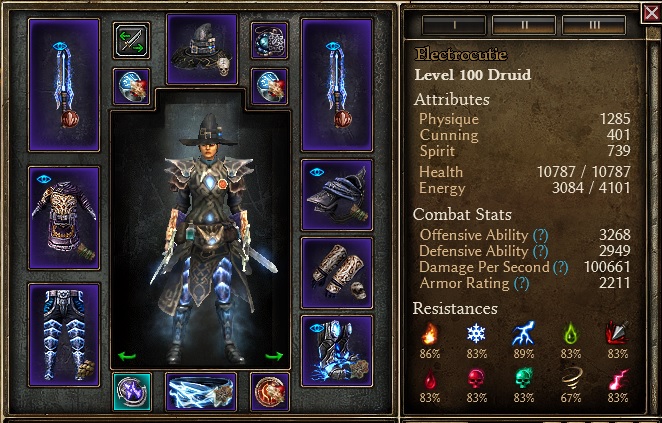 dps is in Savagery
Update: no visible changes from 1.1.4.2 to 1.1.5.2. The build is still intact
The build features strong electrocute dmg from different sources and good enough lightning dmg for bursts and tanking sustainability.
As a melee/caster hybrid it has a luxuary to kite without much dps drop as opposed to your average melee and at the same time a luxuary of facetanking most of the time compared to your average caster.
Skills and gear restrictions:
Basically the only two pieces that can be changed are the belt (but it has to be shaman and this one is BiS) and the medal (in here you only have 1 more option to enable DW). The reason for that is you have to cap Maelstorm and Storm Totem AND have both Wind Devil and Storm Totem with 100% uptime for 3 summons.
There is a big shortage in skills, you have barely enough of them to cap Storm Touched. It's really a shame i had to give up some of the ultimate ranks of it to fit other gear. When capped this skill gives incredible electrocute dmg which is often overlooked.
Other than that - no surprises. It is possible to make a significant spirit dump. But it will hurt either DA or flat dmg (+OA) - both are a big part of the defense and i didn't feel it would be honest to go for such a risk, record one good run and present it as if it was a stable performance.
Devotion path:
I won't lie, i don't like spear and i think it was overnerfed. I can't find explanation for why it doesn't have electrocute dmg with such high requirements. It gives less dmg than Amatok which is tier2 and much less dmg than Tourch which has lower requirements. And it's proc is just a joke for a tier3. But it gives 180% lightning dmg. Lightning is not our main but it's very important for leech sustainability.
I wanted to go for Jackal instead of Ghoul because it opens up some possibilities. Ended up with Ghoul, it's too important and without it the build isn't stable.
It's important to bind Fiend to the devils. Even though it's a t1 proc compared to t3 Ultos it gives more dmg when bound to a good procer due to low cd and the nature of Fiend hitting a target multiple times. Especially when enemies are grouped up.
Gameplay:
In MC focus on the casts. Totem and Devil can clear all of it (killed both Theodin and Korvaak with Devils alone).
In Crucible try to stay near the center and draw all the mobs from the spawns asap. Your main source of dmg - "Devil Fiends" - perfrorms really well against a tight pack. When fighting bosses don't forget to switch targets. You have several sources of high electrocute dmg and everyone should have a taste of it.
To make the run reliable, don't hesitate to kite. The casts will make a short work of the bosses anyway. And they will also leech very well. One note - don't rush into a pack of heavy hitters right away, better makes them come to you. With no instant RR and low WD you'll have miserable leech and as a result - no recovery from the initial hits.
In SR chinks try to pick out packs of regular mobs. Hero packs can kill you easily. But in boss rooms everything is surprisingly fluid. You can facetank any boss and sometimes two of them.
Performance:
3+1 clear in 5:44

With Grava and 1x resistant mutator so the conditions are no perfect. But i was pushing for speed and almost died several times.
I'm not sure what's the limit of the build. Cruci has lots of tough guys with high lightning res, with single RR from the masteries the resistant mutator affect you more and your dmg output is very volatile because of the Devil random behavior and high crit focus.
If someone wants to go for fast Cruci clear i'd make a big spirit dump and ditch spear for DG because it gives more dmg. That's right, vit/chaos constellation with lower requirements gives more dmg than a lightning does
SR75 clear (several deaths but still way ahead of the timer):

2H lightning Druid:
<<< GRIMTOOLS >>>
I had this build for a while but it was overshadowed by another build which utilizes the weapon better. So i didn't feel like mine deserved a separate thread anymore. Still it's a fun and very tanky 2H melee build with fast clear time (down to 6:15 with 3+1) and we don't have enough of those. The only problem is the weapon will be nerfed next patch.