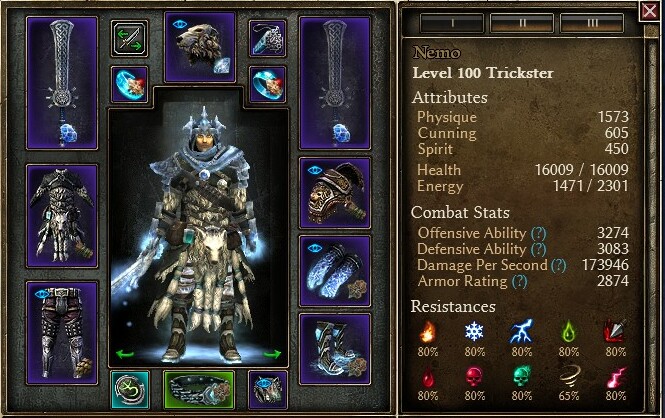 sorry, Jon Snow, but this is how the TRUE King in the North looks like.
OFFENSIVE SETUP (@mad_lee's one)
BUILD EXPLANATION
Sword - BiS here, with very good damage, aura and +2 to both masteries;
Shoulders - very good overall bonuses and bonuses for 2handers;
Belt - probably strange choice but it covers gaps in resists and boosts OA;
Boots - can be changed for M. Amatok's Step but I prefer these ones for better %damage and better proc.
all gear is crafted for stun res
PROS AND CONS OF THE BUILD
PROS
Very good both solo- and AoE-damage;
High RR - up to -124%;
Build is sturdy, with very good phys res for a 2hander and capped CC-resists like slow and freeze res.
CONS
Hard to get a good number of OA/DA and resists so well-rolled green belt is needed;
Kubacabra is somewhat a problem but in terms of time taken to kill it, not in terms of threat.
VIDEOS
LOKARR KILL
RAVAGER OF FLESH ULTIMATE KILL
CRUCIBLE
SR
Special credits and thanks to @mad_lee for improving the build and making the Crucible video, and to all Safarel Discord Community.
All my builds are available here: Afanasenkov26's Build collection