Prepare for the vengeance of Thor! Not a meme.
Introduction
Recently Ultos set was slightly buffed so decided to take another go at it. Since mines are instant, I wanted to try Elementalist. Definitely a strong option, since Demo have lightning RR and no exclusive skill, so Stormcaller is available. And Blast Shield is nice defensively with all that extra CD, so Elementalist for the win!
Credit to @John_Smith for his Conjurer tests.
Build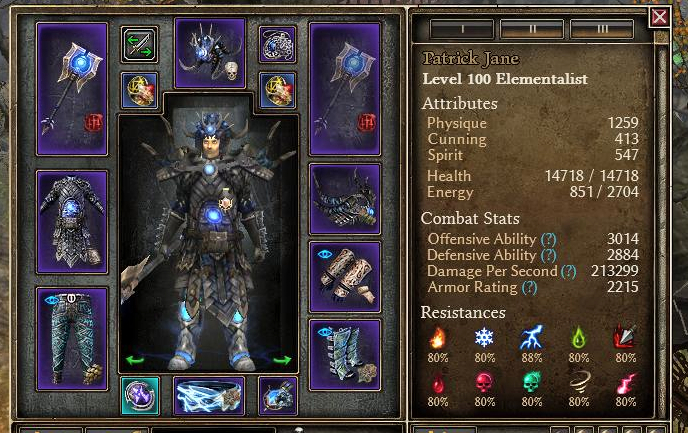 Permanent buffs and Savagery charged, DPS for Thunderous Strike.
GRIM TOOLS- https://www.grimtools.com/calc/p25JzamV
Gear:
Full Ultos set is the key here, also other gear to cover to boost lightning and to cover weaknesses. Eye of Storm+Storm Shepherd supports so well the build.
Rings are budget form Coven rep, DA, Attack speed and good resistances.

Pants are interesting decision, options are Barbaros. But being 2h build, make you vulnerable to CC effects, so disrupt res ease that pain. Also spirit, DA and total damage.

Boots are here for lightning damage, both DA and OA. Proc is nice barrier type of skill. And also skill bonus boost to Mines.

Medal is Cyclone, this build every drop of DA and OA.

Gloves, LD gives attack speed and acid resistance. You can go with blue ones with elemental damage, spirit and DA.

NOTE, since slow resistance is low, craft one or two items with slow.
Devotions:
Decided to skip Spear and take Harp for stats and energy regen, as well as Chariot, both nice boost to builds with high CDR. Also Revenant and Ghoul for defense. Decided to skip Bat, since am tired of constantly using it in every single build

Performance
I love to play Crucible and that's my measuring stick. Build have good but not close to 100% success rate, probably around 75-80%. Toughest enemies are Grava and maybe Kaisan. Maiden and Valdaran slows you down a bit, but are not dangerous. Times are between 6:25 and 7-7:05 minutes.
I play usually like Kamikadze, so that puts in tough spots sometimes, but passive defense from Ghoul and Blast Shield can save you.
Video form Gladiator 150-170- 6:24!
Leveling
You can level a Elementalist with help from this guide by @Stupid_Dragon , little outdated but should help.